Drew plays himself into opportunities vs. lefties
Drew plays himself into opportunities vs. lefties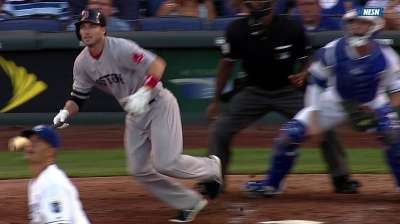 BOSTON -- Stephen Drew entered play Sunday night hitting .333 with a .914 OPS in August, and the production has been rewarded with more opportunities.
While Drew was being sat fairly consistently against left-handed pitching for much of the season, he hasn't missed a game in August. Manager John Farrell has shown trust in his shortstop, particularly with the departure of Jose Iglesias to the Tigers.
Even though Drew is still hitting just .198 on the year against left-handers, his at-bats against them have shown much improvement of late, and it's contributing to overall success.
"He's had consistent at-bats against righties and lefties, probably over the past two to three weeks," Farrell said. "I think if you ask anybody, if you're going to see [lefties] more, they've got a current reference on how to address guys. It might be the arm-slot-type guys, where we might look to take a day where he might get a down day, but I think just consistent at-bats, rhythm, timing, seeing left-handers -- all that goes into the potential of being more successful."
Drew is also getting used to the new competition. He spent the first seven years of his Major League career with the Diamondbacks, almost exclusively facing National League pitchers before he was traded to the A's last summer.
"I think pitchers normally have more of an advantage on a hitter when a hitter hasn't faced a pitcher before," Drew said. "The arm slot and all the variables go into it. And with the scouting they got these days, boy, it's not like when I first came up. It's even more advanced now. So I think it's just more or less hitting your pitch."
And opposing pitchers this season have stopped giving Drew the fastballs he loves to pound into right-field bleachers. While he considers himself a fastball-hitter ("Who isn't?" he says), Drew has seen just 54.8 percent fastballs this season, according to fangraphs.com, as opposed to 60.6 percent last season.
Instead of fastballs, he's seen a steady dose of offspeed pitches, particularly sliders and changeups that force Drew to reach outside of the zone. He's striking out at a career-high rate, 25.5 percent of his at-bats, but he's made late-season adjustments that have allowed him to find success.
"Everybody is going to pitch you differently, no matter what," Drew said. "It depends on how you're doing.
"You look at [David Ortiz's ] at-bats, he gets pitched way differently than everybody else. Everybody is different. It's a game of adjustments, and you have to adjust in the at-bat. They're still going to pitch you the way they think they can get you out.
"The one thing is you can't miss your pitch here."
Jason Mastrodonato is a reporter for MLB.com. Follow him on Twitter @jmastrodonato. This story was not subject to the approval of Major League Baseball or its clubs.