Papi exits early with mild back tightness
Papi exits early with mild back tightness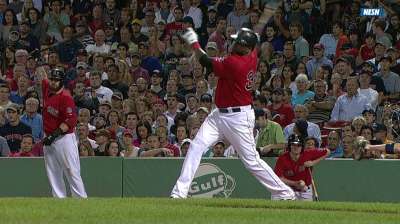 SAN FRANCISCO -- Red Sox slugger David Ortiz is the first to acknowledge he sometimes feels the aging process. And this week, the circumstances were ripe for the slugger to feel some aches and pains.
After flying to San Francisco on the day of the game Monday, Ortiz played first base for the first time in nearly two months. Ortiz got the night off Tuesday and exited after five innings Wednesday with some lower back stiffness.
Ortiz doesn't deem the injury as serious in any way and expects to be back in the lineup when the Red Sox open a three-game series in Los Angeles on Friday night.
"It kind of grabbed me a little bit in my first at-bat. I was trying to fight through it," Ortiz said. "It's not anything bad. It's just a little tight. The manager just decided to pull me out because I wasn't feeling good. I'll probably be fine. I'm not really concerned about it. I think I'll be fine."
It was a good chance for Mike Napoli to get some playing time. After suffering a plantar fasciitis injury in his left foot, Napoli has been out of the starting lineup the last five games.
Farrell hopes to get Ortiz a start at first base in two of the three games in Los Angeles. But the back issue might lead the manager to use some caution.
"You know, I think when we get through the next couple of days, we'll kind of see where he's at," Farrell said. "We certainly have to factor it in. he'll be a big part of it as we make those decisions."
After this weekend, the Sox only have two games without the DH for the rest of the season -- Sept. 24-25 at Colorado.
Of course, the Sox would love to have the opportunity to go without the DH for three games after that, because it would mean they were in the World Series.
Ian Browne is a reporter for MLB.com. Read his blog, Brownie Points, and follow him on Twitter @IanMBrowne. This story was not subject to the approval of Major League Baseball or its clubs.