Buchholz to make next rehab start Friday
Buchholz to make next rehab start Friday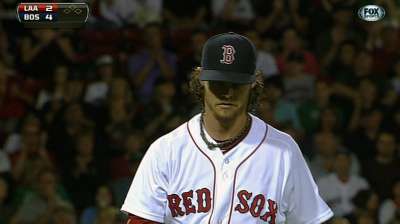 BOSTON -- The next step in Clay Buchholz's recovery process is a rehab outing on Friday, either with Double-A Portland or Triple-A Pawtucket.
It could be his last before the Red Sox bring back the man who posted a 9-0 record with a 1.71 ERA through his first 12 starts this season before being consumed by injury woes in his right shoulder. But considering the length of time since his last start on June 8, and that his first rehab outing lasted just two-thirds of an inning, took 38 pitches and ended with three runs to Buchholz's name, two more rehab appearances might be necessary.
The good news is that Buchholz reported feeling good after pitching for Class A Lowell on Sunday and the Red Sox feel confident enough to keep him going.
"He came out of the outing the other day fine physically, so he'll go through a normal five-day work cycle," said manager John Farrell.
Buchholz won't ramp up the length of the outing too much -- he's likely to only throw about 55 pitches -- but he could also throw a bullpen session this week with hitters standing in, which isn't quite the same as an in-game experience. At this point, though, anything to get Buchholz back into his comfort zone is a good thing.
"I can definitely use another one," Buchholz said after his outing Sunday. "I feel like I hadn't pitched in two and a half months. It's an art. If you don't do it for an extended period of time, you feel awkward doing it. Facing batters in a game situation is completely different than facing the guys on my team in my [simulated-game] situations. I think one more could do it if I can get up and down enough times."
Farrell is still tempering expectations.
"I still go back to it being almost three months since he's been in a Major League game," Farrell said. "The need for a third Minor League appearance [after Friday's] is probably more realistic at this point."
Jason Mastrodonato is a reporter for MLB.com. Follow him on Twitter @jmastrodonato. This story was not subject to the approval of Major League Baseball or its clubs.