Bogaerts held hitless in first Fenway start
Bogaerts held hitless in first Fenway start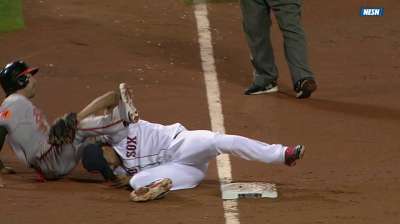 BOSTON -- Xander Bogaerts was hitless in three at-bats in his first career start at Fenway Park during Wednesday's 4-3 win over the Orioles, but it was an eventful night for the 20-year-old.
The Red Sox's top prospect saw just four pitches in three at-bats, but he squared the ball up each time, hitting a hard grounder and lining out twice before stepping to the on-deck circle in the tie game with two outs in the eighth inning.
The fairy-tale ending didn't happen for Bogaerts, as he was lifted for pinch-hitter Mike Carp, who hit the go-ahead single. But Bogaerts first start at Fenway impressed fans, who even booed manager John Farrell's decision to remove him from the game.
Bogaerts also impressed his manager.
"I thought his at-bats were consistent with what we've seen of late," Farrell said. "He stays inside the ball well, he's looking to move the runner over in the case where he hits a soft-liner to second base, but he plays the game with ease. There's a calmness about him that he's shown in a short period of time."
Bogaerts, who is 3-for-12 during his short time in the Majors after hitting .297 in the Minors this season, has been happy with his at-bats so far.
"I felt good," Bogaerts said. "I missed that ball by a few inches, that ground ball [in the fourth inning]. I hit the ball pretty good."
Bogaerts played third base in his first start. A natural shortstop, he's been playing third to become more versatile in the eyes of the manager, who now has the option of using Bogaerts to spell Will Middlebrooks at third or Stephen Drew at shortstop.
Bogaerts has played the hot corner for 13 1/3 innings since his call up and has converted all his chances. While playing third occasionally for Triple-A Pawtucket, Bogaerts manned the position 10 games and made just one error.
Bogaerts still views himself as a shortstop, but he'll play anywhere.
"A work in progress -- particularly on the long and short hop, depending upon the speed of the runner," Farrell said of Bogaerts' defense at third base. "There's different footwork that will be executed in reading that hop.
"With just a handful of games, there's limited opportunity, so the early work was critical in him getting comfortable over there. But he's such a good athlete and he's got that internal clock that we saw on the play at shortstop the other night out in L.A. [Yasiel] Puig is flying down the line, and he doesn't waste movement and he uses the ground to skip a throw. He's got that instinct. The repetition at third, just because he's been a shortstop his whole career, that's a little bit on the short end."
Jason Mastrodonato is a reporter for MLB.com. Follow him on Twitter @jmastrodonato. This story was not subject to the approval of Major League Baseball or its clubs.