Papi's slump reaches 22 at-bats after hitless night
Papi's slump reaches 22 at-bats after hitless night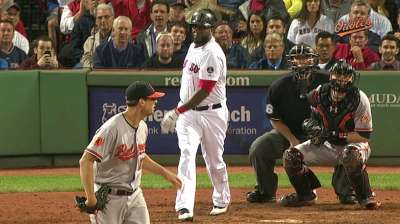 BOSTON -- David Ortiz rarely goes on hitless streaks like the one he's currently in. He rarely is the guy to strike out with the game on the line.
Thursday night was one of those times. Ortiz went 0-for-4 and left three runners on base as the Red Sox lost to the Orioles, 3-2.
Throughout his career, he's never gone more than 27 at-bats without getting a hit, and he's never gone more than 23 at-bats without a hit as a member of the Red Sox.
After Thursday's performance, Ortiz is hitless in his past 22 at-bats.
"Just missing pitches," Papi said. "You've got to stay aggressive, keep on battling. It happens to everybody.
"Hey, I'm a player just like everybody else. I'm not going to put pressure on myself. We don't have time for that. Just keep trying. That's the only way you can get out of it."
When Ortiz came up in the eighth inning, Jacoby Ellsbury had stolen second base to put himself into scoring position as the game-tying run. But Brian Matusz struck out Ortiz to kill the rally.
"There was no thought of a pinch-hit or to try to take away from what his strengths are," manager John Farrell said. "We've seen many, many times against left-handers where he's stayed inside the ball with either a ground ball up the middle or a line drive to left-center field. He's just going through a spell right now where he's working to get out of it."
Farrell said there have been no recent symptoms of a sore back that had hindered Ortiz during a six-game road trip on the West Coast, and Ortiz will be in the lineup Friday as the Red Sox host the White Sox.
Assistant hitting Victor Rodriguez said the 37-year-old designated hitter is tired, but the lack of energy is nothing out of the ordinary for late August.
"This is pretty normal; it's been 100-and-something games he's played and he's been as consistent as anybody in the Major Leagues," Rodriguez said. "So it's normal that he's probably a little tired and trying to do a little too much. There's nothing to worry about. It's just a matter of him getting back on track and slowing things down.
"It's not by mistake [that he doesn't go in long slumps]. This guy is a hard worker. He knows what he can do. He's real simple with his approach. He's a guy who is low-maintenance, so even when he's slumping a little bit, he comes out real quick."
The slump has been uncharacteristic of Ortiz, who needs one more home run this season to give him at least 25 for the ninth time in his career. Only 11 active players have nine seasons with at least 25 homers.
"It's not the end of the world," he said. "Papi's going to struggle, too. I'll be back."
Jason Mastrodonato is a reporter for MLB.com. Follow him on Twitter @jmastrodonato. This story was not subject to the approval of Major League Baseball or its clubs.