Shoulder better, Carp available off bench
Shoulder better, Carp available off bench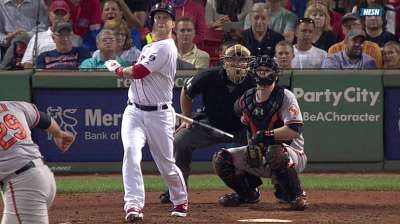 BOSTON -- Mike Carp, who was a late scratch from Thursdays' 3-2 loss to the Orioles because of left shoulder stiffness, said he was feeling much better on Friday and would be available off the bench.
Carp said he simply slept on it wrong Wednesday night, tried to get through batting practice before Thursday's game and didn't feel right.
"I just didn't feel like myself and didn't feel like I'd give the team a good chance with the four at-bats I was going to get," he said.
Considering how hard Carp has worked to get himself in the lineup as often as possible, he'd have to be feeling pretty awful to take himself out.
"It's tough," Carp said, "but that's part of the game. You're not going to be able to go out there every day and be healthy. Thankfully it was only one day, not like last year where I missed a lot of time."
Carp's left-handed bat has been particularly useful this season. He had the go-ahead hit off the bench in Wednesday's 4-3 win over the Orioles, and he's posted a career-high .913 OPS over 196 plate appearances.
Jason Mastrodonato is a reporter for MLB.com. Follow him on Twitter @jmastrodonato. This story was not subject to the approval of Major League Baseball or its clubs.