Pedroia leads off for first time since 2009
Pedroia leads off for first time since 2009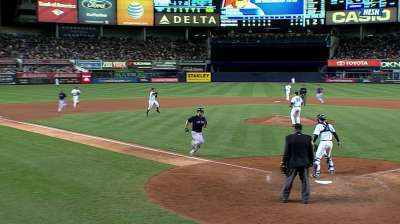 ST. PETERSBURG -- For the first time since 2009, Dustin Pedroia was in the leadoff spot for Tuesday night's 2-0 win over the Rays.
With center fielder Jacoby Ellsbury likely sidelined for a couple of weeks, manager John Farrell is trying to find a combination that works.
Pedroia moved from third to first, while Shane Victorino stayed in the two-hole. David Ortiz and Mike Napoli each moved up one spot, hitting third and fourth, respectively.
"In Jacoby's absence, we felt like we needed a guy that would see a lot of pitches," Farrell said. "It might help Shane in that two-hole to see how pitchers are going to attack a right-handed hitter. It also gives us an opportunity to get David to the plate in the first inning. There's a number of things that went into putting Pedey in that leadoff spot. We felt like this was a chance to get our top four or five hitters in the top half of that lineup."
For whatever reason, Pedroia's numbers as a leadoff hitter (.253 average, .693 OPS in 320 at-bats) haven't been as good as the other places he's hit.
However, that could have just been a product of Pedroia happening to be in slumps when he was hitting first. He didn't seem troubled by the move at all.
"It doesn't change my approach or anybody else's," said Pedroia, who went 1-for-4 Tuesday. "I liked hitting leadoff. I hit there basically my whole life until my second year. I hit a lot in the Minor Leagues, first and second. My rookie year, I hit first a lot, and I hit there a little in '09."
Farrell consulted the second baseman before making the switch.
"In talking with Pedey before we did this, there was a little back and forth on it, and to his credit, he brought it out initially, and we talked a little bit about it yesterday," said Farrell. "For the reasons stated, this gives us a good look against a lefty."
"The one thing we've really worked hard at is maintaining some continuity, and if this is one that'll give us some continuity until Jacoby returns, we're certainly willing to stay the course," Farrell said.
Ian Browne is a reporter for MLB.com. Read his blog, Brownie Points, and follow him on Twitter @IanMBrowne. This story was not subject to the approval of Major League Baseball or its clubs.