Former Sox pitcher Lowe debuts as broadcaster
Former Sox pitcher Lowe debuts as broadcaster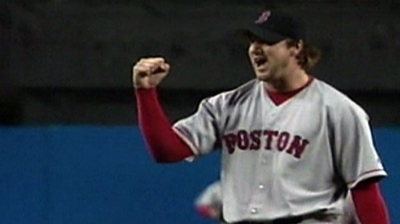 ST. PETERSBURG -- Dressed in a suit and tie, Derek Lowe reappeared in the Red Sox's clubhouse on Tuesday afternoon, eager to make his debut as a broadcaster.
One of the postseason heroes from Boston's historic 2004 team, Lowe will serve as a color analyst on NESN for the next three nights, working with play-by-play man Don Orsillo.
Lowe's solid Major League career ended in June when he was released by the Texas Rangers.
He made the two-hour drive from his home in Fort Myers, Fla., to work this series.
"I think it's a great opportunity to, first of all, see if you enjoy it," said Lowe. "I think it's something where I've been watching not only just the Red Sox, but baseball in general, so you kind of have a feel about what's going on. I think any time you get a chance to do something outside your comfort zone, you might as well try it and see if you like it, and if you do, try to pursue it at some point."
Considering he is still decompressing from his playing career, Lowe isn't ready to commit to full-time broadcasting just yet. However, he's always been comfortable speaking to the media, so it could be a natural transition.
"I think right now it's too early," said Lowe. "I just got done playing three months ago. To try to get into a situation where you're going to be gone all the time again might be too much. This is great. It's clearly an organization that I knew pretty well and to come out here and watch a big series will be great."
Lowe pitched for the Red Sox from 1997 to 2004 and had a 17-year Major League career.
Pedro Martinez, another rotation member from that 2004 team, was also in the clubhouse before the game and had a good time catching up with Lowe. In fact, Martinez, who is a special assistant to general manager Ben Cherington, was hoping to take the elevator up to the NESN broadcast booth at some point Tuesday night and do an inning with Orsillo and Lowe.
Martinez might also try his hand in the media by doing some work with TBS during the upcoming postseason. Curt Schilling, Kevin Millar, Gabe Kapler and Tim Wakefield are other members of Boston's 2004 champs who have made the transition to electronic media.
Much like Martinez, Lowe has enjoyed watching the resurgence of the Red Sox after a 69-win nightmare last season.
"All you have to say is everything as far as the differences," Lowe said. "I think what made this transition a lot easier is they weren't stuck with a lot of contracts. They got rid of all their contracts, so they were able to get four or five new guys. It's obviously working. They have great chemistry. You look at the Yankees series, they fell behind six or seven runs and found a way to come back. They're putting themselves in a great situation -- 7 1/2 up with 17 to go."
Ian Browne is a reporter for MLB.com. Read his blog, Brownie Points, and follow him on Twitter @IanMBrowne. This story was not subject to the approval of Major League Baseball or its clubs.