Bradley trying to capitalize on experience
Bradley trying to capitalize on experience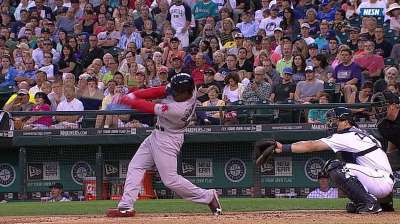 ST. PETERSBURG -- One side effect from the Jacoby Ellsbury injury is that it is giving Jackie Bradley Jr. a chance to get some more experience down the stretch.
Bradley, who is ranked the club's No. 2 prospect, will probably get most of the at-bats in center field against right-handed pitching, and he looks to capitalize on the opportunity.
The one thing Bradley finds invaluable is the chance to get more at-bats at the Major League level.
"You can know everything or a repertoire a pitcher has, but you're not going to know what everything is like unless you actually face them face to face," Bradley said. "You can see it from the dugout or on the computer or TV, but to actually get out there and experience it, that's how you find out and learn the most."
Entering Wednesday's game against the Rays, Bradley was a .172 hitter in his first 64 Major League at-bats.
"We've got a pretty good feel for what Jackie is going to do, and that's going to be well-above-average defense," said manager John Farrell. "He's going to put up a quality at-bat. We also have to temper that he's not getting everyday at-bats right now as well, but there's no lack of confidence putting him in the lineup."
Bradley had a dominant Spring Training and made the Opening Day roster. He was optioned to the Minors once David Ortiz returned from his Achilles injury. However, Bradley has come back to the team for multiple stints, and Farrell has seen improvement each time.
"The biggest thing is his understanding of where he can handle pitches, particularly in to him," said Farrell. "Early in the year, opposing pitchers found a little bit of a hole in there and exploited it. I don't know that he necessarily knew where the strike zone ended close to him. After going back down, that's become more of a consistency of his approach. But I don't think we want to jump to conclusions just because of the irregularity of at-bats here."
Bradley's main goal for each day? To keep learning.
"You're always learning," said Bradley. "You're never going to know every single thing. Doing the fundamentals every single day and getting better, whether it's bunting, moving runners over, those are small things that you don't really see on a stat sheet, but it helps teams win."
Ian Browne is a reporter for MLB.com. Read his blog, Brownie Points, and follow him on Twitter @IanMBrowne. This story was not subject to the approval of Major League Baseball or its clubs.