Sox to give Doubront start against Blue Jays
Sox to give Doubront start against Blue Jays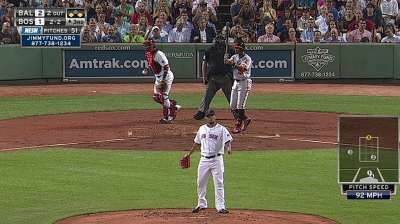 BOSTON -- Felix Doubront will be back in the Red Sox's starting rotation next weekend, at least for one start.
Manager John Farrell said Doubront, who hasn't pitched since Sept. 6, will throw a side session Saturday, a simulated game on Tuesday and will be ready to make a start for the Red Sox in the following series against the Blue Jays.
Without a quality start since Aug. 27, Doubront had allowed 10 runs over 7 1/3 combined innings between his last two outings. When Clay Buchholz returned from injury, Doubront was given some rest.
"We felt this was the need, just from the physical standpoint," Farrell said. "There wasn't anything glaring inside the last five or six starts he made, it was just the lack of consistency. And to me that looked like fatigue."
Doubront, 25, jumped his innings total from 82 2/3 in 2011 to 161 in 2012. He's thrown 154 innings this season, and Farrell hinted that the innings jump might've been enough to cause Doubront's body to tire.
"He went through different phases this year, where he started a little behind in Spring Training, caught up, went on a very good run for an extended period of time and then things started to catch up again," Farrell said. "That's just our response to the waves that he's gone through, and you have to address it accordingly."
Jason Mastrodonato is a reporter for MLB.com. Follow him on Twitter @jmastrodonato. This story was not subject to the approval of Major League Baseball or its clubs.