Holding early lead, double steal pays dividends
Holding early lead, double steal pays dividends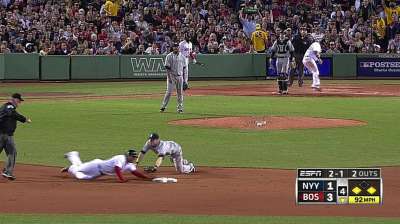 BOSTON -- Put a 20-year-old on the front end of a double-steal that would involve a 235-pound catcher swiping home against the Yankees on national television? Why not?
Xander Bogaerts loved his manager's call in the Red Sox's 9-2 win Sunday. With the Sox holding a 3-1 lead in the fourth inning, there was a lot on the line at that specific moment.
Bogaerts, who is ranked the Sox's No. 1 prospect, leaped off first base as soon Yankees starter Ivan Nova threw home. Catcher Chris Stewart took the bait and his off-the-mark effort felt short of second base. Meanwhile, Jarrod Saltalamacchia had already made his way to home, and in the process became the first Red Sox backstop to steal home since Gary Allenson did it in 1980.
"We had a pretty good idea that they were going to throw through," Saltalamacchia said. "And if they didn't, we were going to get caught. It was a do-or-die play. As soon as Stewart came out of the crouch to throw the ball, I just kind of went."
Saltalamacchia has stolen four bases in his career.
"With my speed, it just kind of took over," he joked. "I mean, Jackie Robinson, [Jacoby] Ellsbury, I'm in a pretty elite category."
Kidding aside, it was a big spot to put a rookie in during a close game. When the throw bounced in the dirt, Bogaerts had the wherewithal to sprint to second and steal his first career base.
"I've been having a few games against the Yankees, so hopefully that trend continues," Bogaerts said.
Ian Browne is a reporter for MLB.com. Read his blog, Brownie Points, and follow him on Twitter @IanMBrowne. Jason Mastrodonato is a reporter for MLB.com. Follow him on Twitter @jmastrodonato. This story was not subject to the approval of Major League Baseball or its clubs.