Balancing act in quest for home field, 100 wins
Balancing act in quest for home field, 100 wins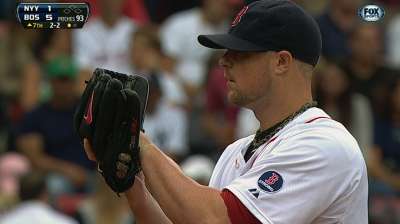 BOSTON -- With the magic number at four entering Tuesday's game against the Orioles, the Red Sox could clinch the American League East title as soon as Wednesday.
There are two things the Red Sox can accomplish by continuing to win after they clinch. The first would be solidifying home-field advantage throughout the postseason. Boston currently leads the A's by 3 1/2 games for the best record in the AL.
The other motivation would be to win 100 games, something the Sox would need an 8-3 record the rest of the way to get. No Red Sox team has won 100 games since 1946.
"The best record obviously gives you home-field advantage through the playoffs once you get there," said manager John Farrell. "It is a balance, and we'll pick our spots to get guys off their feet as needed. But we also have two additional off-days before the season is out."
Not only do the Sox have the two off-days during the season, but they would have four additional down days between the end of the regular season and the start of the postseason.
Farrell did say that John Lackey, Jon Lester and Clay Buchholz will pitch the final three regular-season games in Baltimore, though he hasn't committed to the order yet.
The Red Sox have two off-days next week, so the rotation order is very flexible for that final weekend.
"As the rotation plays out over the next three series prior to going into Baltimore, those three guys are going to be rested and available to pitch in that series," Farrell said. "We haven't mapped it out, who's going to start Friday, Saturday and Sunday there. We also have to balance two off-days next week and then the potential for those four days off [before the postseason] as well and not have a guy get too far away from a start. I mentioned those three guys, because they're all going to be eligible and rested going into Baltimore. What rotation they fall under, that's yet to be determined."
Ian Browne is a reporter for MLB.com. Read his blog, Brownie Points, and follow him on Twitter @IanMBrowne. This story was not subject to the approval of Major League Baseball or its clubs.