Ellsbury confident he'll return in regular season
Ellsbury confident he'll return in regular season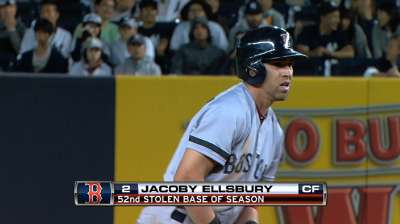 BOSTON -- Though Jacoby Ellsbury is still waiting to be cleared to resume baseball activities, the center fielder is "very confident" he will be back in the lineup before the regular season ends on Sept. 29.
The center fielder fouled a ball off his right foot on Aug. 28 and played for eight more days before shutting it down and undergoing an examination that revealed a compression fracture.
"I played seven games after I fractured it. I definitely tried to be in there as long as I could, and the docs basically had to pull me out and tell me, 'You've got to let this thing rest and give it time,'" said Ellsbury, who spoke to the media Wednesday for the first time since he stopped playing.
Though the steps in his recovery are very gradual, Ellsbury can feel the difference each day.
"I'm making great progress," Ellsbury said. "The doctors are pleased with how everything's gone. We're taking it day-by-day and working hard to get back on the field."
At some point, Ellsbury will make enough progress to return to the lineup, right?
"Very confident," Ellsbury said. "Everybody's excited. The docs are just happy with my progress. We're hopeful I'll be back playing. I feel very confident I'm making quick progress."
How many games does Ellsbury feel he needs to rediscover his timing to be ready for the postseason?
"I'm not real sure," said Ellsbury. "Just right now, I'm focused on getting back to the team. It's been fun watching them play. I'm definitely dying to get back out there."
In the meantime, Ellsbury is trying to maintain his patience as the Red Sox close in on clinching a postseason spot without their leadoff man.
"The docs have put me on a fast track as far as a plan and getting back as quick as possible," Ellsbury said. "At the same time, just getting out there and playing like I can. I keep on telling them I'm trying to push the envelope with them. They always have to tell me to slow down. It does take time, but I'm very hopeful I'll be back playing soon."
Ian Browne is a reporter for MLB.com. Read his blog, Brownie Points, and follow him on Twitter @IanMBrowne. This story was not subject to the approval of Major League Baseball or its clubs.