Red Sox rotation won't be resting up next week
Red Sox rotation won't be resting up next week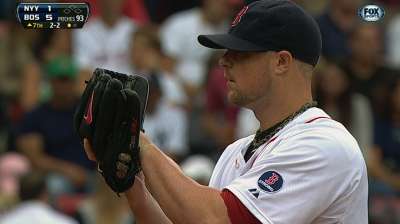 BOSTON -- The dust might be settled on the Red Sox's American League East title before their final series against the Orioles begins next weekend, but Jon Lester, Clay Buchholz and John Lackey won't be taking any starts off.
Lester, Buchholz and Lackey will each make a start in the final regular-season series, though the order has yet to be determined. Rather than rest them down the stretch, manager John Farrell will give them a last chance to tune up before the playoffs begin.
In his first season since recovering from Tommy John surgery, Lackey has thrown 183 1/3 innings. His highest total is 231, combined with the postseason, in 2007.
Lester has thrown 201 1/3 innings entering Friday night's start against the Blue Jays. He could set a regular-season high, his previous coming in 2008, when he pitched 210 1/3 innings in the regular season and 26 2/3 innings in the postseason.
Buchholz, who missed more than three months this season, has thrown 95 1/3 innings. His career high was 189 1/3 innings, set last year.
Felix Doubront enters Sunday with 154 innings in 2013, though Farrell said he could be moved to the bullpen after Sunday's start.
Jake Peavy will start Tuesday against the Rockies. No starter has been announced for Wednesday.
"It could very well be a game which we break up to give a number of guys some work," Farrell said.
Jason Mastrodonato is a reporter for MLB.com. Follow him on Twitter @jmastrodonato. This story was not subject to the approval of Major League Baseball or its clubs.