Red Sox trying to stave off A's for best record
Red Sox trying to stave off A's for best record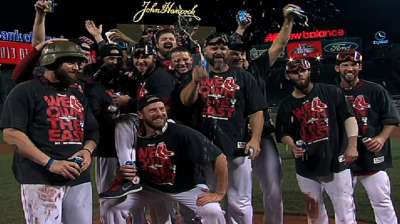 DENVER -- Despite losing, 8-3, to the Rockies on Tuesday night, the Red Sox's lead for the best record in the American League -- and thus, home-field advantage throughout the postseason -- remains at one game over the Athletics.
Even though they have the AL East locked up, manager John Farrell the final four games will keep his team focused.
"I think it helps without a doubt," Farrell said. "Before we started September, one of the things we looked at was [the] difficulty to our schedule, and I thought that was a bonus. We knew we were going to be challenged not only by coming out here to Colorado, but the teams that we were playing, where we were in relation to everybody else in the division and it's maybe kept us accountable to our daily work and preparation because of the opponents we were playing."
Aside from the advantage of opening each postseason series at home, the team with the best record in the AL would play the winner of the Wild Card play-in game, rather than the Detroit Tigers.
"I think the fact that we would be able to secure home-field advantage throughout the playoffs, evident by the way we played at home and the way our guys embrace our environment, it would be a very good thing," said Farrell.
The Red Sox own the best home record in the AL at 53-28.
The Red Sox have one game in Colorado, followed by three final regular-season games in Baltimore against the Orioles.
The A's also finish their schedule on the road, with one game in Anaheim and three at Seattle.
If the Sox and A's finish with the same record, Oakland would win the tiebreaker, according to research done by the A's media relations staff.
The first tiebreaker is head-to-head, and the teams split their six games. The second tiebreaker is games within the division, and if the teams finish with identical records, the best Boston could do is tie Oakland in that category. Ditto for the third category, which is games within the AL.
The fourth tiebreaker is the last half of games (71) against AL competition, and the A's would finish with a better record in that category no matter what.
"We are also in a position where we control our own destiny," Farrell said. "The rules are the rules. The schedule is not going to be fair to everybody. Everybody plays 162, but the fact is we played more games than anyone before the All-Star break, so you can say that might be a benefit on our part to get off-days late in the season. Hopefully it doesn't come into play."
Ian Browne is a reporter for MLB.com. Read his blog, Brownie Points, and follow him on Twitter @IanMBrowne. This story was not subject to the approval of Major League Baseball or its clubs.