On the last day, Pedroia rests
On the last day, Pedroia rests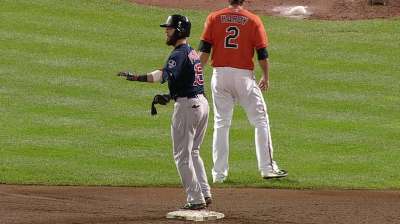 BALTIMORE -- For one of the only times in Dustin Pedroia's career, he didn't protest a day off when his manager suggested one.
The All-Star second baseman played in a career-high 160 games this season, all but one of which were starts. He finished the regular season with a .301 average, 91 runs, 193 hits, 42 doubles, nine homers, 84 RBIs and 17 stolen bases.
He did it while playing the entire season with a UCL tear in his left thumb, sustained on Opening Day.
"That's my job -- be out there and try to impact the game every night," Pedroia said.
With four off-days looming before Game 1 of the American League Division Series, several regulars did start, including Jacoby Ellsbury, David Ortiz, Mike Napoli, Will Middlebrooks and Jarrod Saltalamacchia.
Quintin Berry, vying for a bench role in October, helped his cause with a two-run home run in the second inning.
Ian Browne is a reporter for MLB.com. Read his blog, Brownie Points, and follow him on Twitter @IanMBrowne. This story was not subject to the approval of Major League Baseball or its clubs.