Red Sox to go with 11 pitchers in ALDS
Red Sox to go with 11 pitchers in ALDS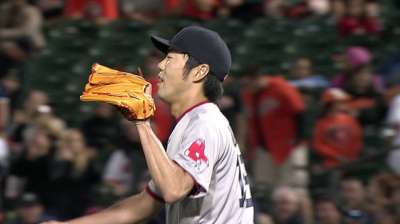 BOSTON -- Though the Division Series roster does not need to be submitted until Thursday, Red Sox manager John Farrell sounded as if he already knew how his 25-man roster alignment would look.
The one thing he confirmed Wednesday afternoon was that the Red Sox would go with 11 pitchers. In previous years, the Red Sox sometimes deployed just 10 pitchers in the Division Series.
Why 11 instead of 10?
"It's more staying with what our strengths have been," Farrell said. "This wasn't in reaction to Texas being eliminated. This is going back and forth with [general manager] Ben [Cherington] and others on what is the 25th player, who is it, how we envision that person being used. You start to get multiple moves down the line, and then you begin to weigh what's more important, and to me, protecting the downside of something unforeseen happening on the mound, and pitching-wise, I don't want to disrupt that."
That means the Red Sox will go with five bench players. The definites would seem to be David Ross, Mike Carp, Jonny Gomes and Xander Bogaerts. Quintin Berry, who is known for his speed, is likely to be the final bench player.
The defensive versatility of Carp, Daniel Nava and Bogaerts made it easier for the Red Sox to go with an extra pitcher.
"The one challenge for the roster is we're heavy in outfielders, and I will tell you that," Farrell said. "That's where a lot of the decision-making centered around, is that extra player and knowing that either a pinch-runner or pinch-hitter, they're outfielders. We were just making sure that we weren't too thin on the infield."
The Red Sox will go with a four-man rotation and seven relievers. Koji Uehara, Junichi Tazawa, Craig Breslow, Ryan Dempster and Brandon Workman are all but certain to make the roster. The bubble candidates in competition for the final two spots? Lefties Franklin Morales, Matt Thornton, Drake Britton and Felix Doubront.
Ian Browne is a reporter for MLB.com. Read his blog, Brownie Points, and follow him on Twitter @IanMBrowne. This story was not subject to the approval of Major League Baseball or its clubs.