Dress rehearsal draws nearly 4,000 fans at Fenway
Dress rehearsal draws nearly 4,000 fans at Fenway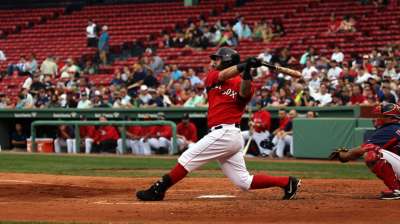 BOSTON -- For one day, the Red Sox were divided into the visiting "blue" team and the home "red" team.
Clay Buchholz pitched against batterymate Jarrod Saltalamacchia and gave up an RBI double in the top of the first. Jake Peavy struck out the side in the bottom of the first, capped by a fastball he blew by David Ortiz.
The Red Sox invited fans to their intrasquad competition on Wednesday, which started at the precise time (3:07 p.m. ET) that Friday's Game 1 of the American League Division Series will begin on TBS. The game lasted 5 1/2 innings.
With four days off between Sunday's regular-season finale and Friday's Game 1, this was a way for manager John Farrell to try to keep his team at gamespeed.
"We had our lineup see live pitching," said Farrell. "We got the guys to the mound that we needed to get full speed work, and they were able to accomplish that."
Despite the fact the intrasquad contest was played in the middle of a work day, about 4,000 fans came out to Fenway to watch.
Fan saw Quintin Berry, likely to earn the 25th spot on the roster, make a tremendous diving catch in right field. They also saw several of the team's key pitchers get some work, including Koji Uehara, Craig Breslow, John Lackey and Ryan Dempster.
Franklin Morales and Felix Doubront, who are competing for spots in the bullpen, each threw an inning.
"It was funny, hitting and looking around, we had nine on each side, that's 18. We have 18 good ballplayers," said Jonny Gomes. "This team is pretty deep. I think you saw that today."
They also have a passionate fanbase that revels even in watching a practice game.
"Our fans have been with us since Jump Street," said Gomes. "It's cool that they took some time out of their day to watch us play. They got to see a little behind the scenes today. That was pretty cool."
Ian Browne is a reporter for MLB.com. Read his blog, Brownie Points, and follow him on Twitter @IanMBrowne. This story was not subject to the approval of Major League Baseball or its clubs.