Gomes slated to start Games 1, 2 in left field
Gomes slated to start Games 1, 2 in left field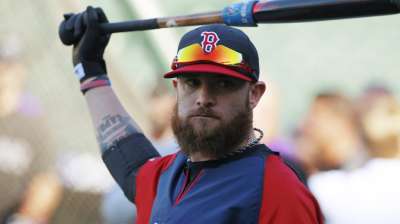 BOSTON -- With a pair of lefties, Matt Moore and David Price, due up against the Red Sox in Games 1 and 2 of the American League Division Series, the Red Sox will adjust accordingly.
And that means Jonny Gomes will get a chance.
Manager John Farrell confirmed that Gomes, who has a career OPS almost 150 points higher against lefties than righties (.879 vs. .733), will be starting in left field for both games.
"He's a fierce competitor, one who has a knack for the key moment, whether it's late in the ballgame or a pivotal time with a rally offensively for us," Farrell said of Gomes.
Gomes, who signed a two-year, $10 million deal with the Red Sox in the offseason, had hopes of being an everyday player this season. However, the emergence of Daniel Nava and Mike Carp as legitimate offensive threats took some at-bats out of Gomes' hands. He predominantly got the starts against left-handed pitching, and he responded with eight homers in 161 at-bats (about one homer every 20 at-bats) and a .795 OPS.
Gomes is also quite familiar with the Rays. He was drafted by Tampa Bay in 2001 and stayed there until joining the Reds in '09.
"The organization gave me the opportunity to start, and it was the organization that had faith in me," Gomes said. "That being said, I want to kick their [tails].
"I definitely don't dig down harder against these guys. There aren't too many familiar faces over there."
Farrell also announced that Jarrod Saltalamacchia would take a seat on the bench for one of the first two games, paving way for David Ross to get a start behind the plate. Considering Saltalamacchia is just 1-for-17 against Price and Ross is 2-for-5 with two homers off him, Game 2 would be the likely platform for the switch.
Jason Mastrodonato is a reporter for MLB.com. Follow him on Twitter @jmastrodonato. This story was not subject to the approval of Major League Baseball or its clubs.