Red Sox in awe of teammate Uehara's dominance
Red Sox in awe of teammate Uehara's dominance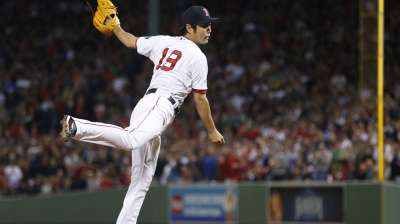 ST. PETERSBURG -- Koji Uehara's dominance has gotten plenty of notice in Boston this season, but now the right-hander gets to have it play out on a national level.
In Saturday's Game 2 of the best-of-five American League Division Series against the Rays, Uehara awed the Fenway faithful and all of his teammates by throwing an 11-pitch, 11-strike ninth inning.
"We call him the ninja," said Red Sox right-hander Clay Buchholz. "He throws two pitches and it always seems like the hitter is looking for the other one. He's been unbelievable. It's been crazy to watch all season how he can go out there and throw one inning and nine pitches on average and be three up, three down. I think we had a little [joke] going, wondering why he wasn't in the starting rotation. He could probably throw a complete game in 65 pitches."
There's no one the Red Sox would rather have pitching the ninth inning.
"That's fun," said David Ortiz. "Especially when you don't have to face him. When he's on your side, this guy threw 11 strikes in a row last night? That's insane."
Game 3 of the ALDS is on Monday at 6 p.m. ET on TBS.
Ian Browne is a reporter for MLB.com. Read his blog, Brownie Points, and follow him on Twitter @IanMBrowne. This story was not subject to the approval of Major League Baseball or its clubs.