Red Sox will try to keep running in ALCS
Red Sox will try to keep running in ALCS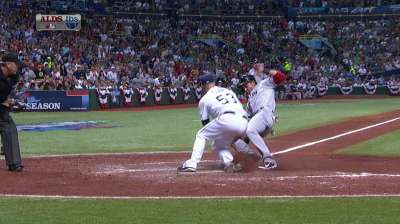 BOSTON -- The Red Sox continue to buck tradition by turning speed and baserunning into major weapons this season. And that might never be more vital than in this American League Championship Series against the Tigers.
Given that Detroit has two dominant starters in Max Scherzer and Justin Verlander, manufacturing runs could be more important than ever.
The Red Sox were successful on 45 straight stolen-base attempts before Daniel Nava was caught in Game 4 of the Division Series.
"It's been a part of our game all season," said Jacoby Ellsbury, Boston's fastest baserunner. "Getting to this point, we're not going to stop doing it. We haven't really forced the issue on it. We just want to be smart. We want to stick our plan, stick to our approach. That's what it's going to take -- a quality team effort -- and we're going to have to be clicking on all cylinders to advance."
Tigers manager Jim Leyland is confident that his team can stop the running game.
"Well, if you looked at our last couple of series with Kansas City, [which] is a real [good] running team, you'll find we did a good job of that," Leyland said. "We picked them off about three times. I don't know that we'll be able to get Ellsbury."
Then again, Leyland also knows how dangerous Boston's lineup is, so he doesn't want his pitchers to get overly distracted.
"That's kind of a Catch‑22. ... You can't get consumed by that as a pitcher, because then you make too many mistakes with the hitter," he said. "We'll have a plan. We'll try to watch it close. We'll try to contain them. It's not going to be a perfect deal. But you know, I don't know how much that will be a factor. I know they push a little bit more than the Oakland club, to be honest with you. It's a great point, just an extra thing you have to be aware of. We'll be prepared for that."
Ian Browne and Jason Mastrodonato are reporters for MLB.com. This story was not subject to the approval of Major League Baseball or its clubs.