Gomes, Carp in; Nava, Napoli out of Game 2 lineup
Gomes, Carp in; Nava, Napoli out of Game 2 lineup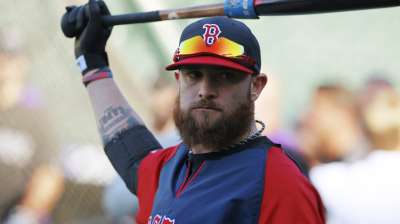 BOSTON -- Manager John Farrell's lineup shuffling for Game 2 of the American League Championship Series on Sunday at 8 p.m. ET on FOX had more to do with the man on the mound for the Tigers than the fact his Red Sox had just one hit in Game 1.
Max Scherzer has been perhaps the best starting pitcher in the AL this season, going 21-3 in the regular season and then 2-0 in the AL Division Series against Oakland.
The Red Sox were one of the three teams to beat the ace righty this season, albeit in a tight 2-1 fashion.
In that game, Jonny Gomes had two hits, and that was a factor in him starting Sunday night. Most of the time Gomes starts, it is against a left-hander.
"Kind of going back to the game here in September against Scherzer as well as just wanting to get [Gomes'] energy and his approach in the lineup here today," said Farrell.
That left Daniel Nava, who had the only hit for Boston in Game 1, on the bench.
First baseman Mike Napoli also was not in the lineup for the first time this postseason. Left-handed hitter Mike Carp got the nod in his place.
At this time of year, there are a variety of factors involved when Farrell puts together his lineup.
"The numbers are one thing, but you also take the view of the type of stuff that a guy is going to be seeing with what he handles best," said Farrell. "Numbers are one, and style and approach of a given pitcher is also taken into account."
Ian Browne is a reporter for MLB.com. Read his blog, Brownie Points, and follow him on Twitter @IanMBrowne. This story was not subject to the approval of Major League Baseball or its clubs.