Fearless Ross weathers pair of collisions
Fearless Ross weathers pair of collisions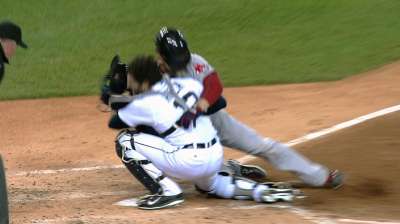 DETROIT -- David Ross has nothing but sympathy for players who sustain head injuries on the field of play. He's been there before and knows firsthand just how devastating the effects can be on someone's career.
Boston's catcher went through the frustrating recovery process earlier this year when he had to miss more than two months with a concussion. The symptoms were expected to subside quickly but instead lingered and almost completely derailed his season.
Ross understands the potential hardships, but he's not about to shy away from contact and change the way he approaches the game. If there were any doubts about that, they were erased during Thursday's Game 5 of the American League Championship Series, when Ross was involved in a pair of hard collisions at the plate.
"Once I step onto that field, I'm not worried about getting injured," Ross said after the Red Sox's 4-3 victory over the Tigers, which put Boston one win from the World Series. "If you play scared, or not to get hurt, you're probably going to get hurt."
The first incident involving Ross occurred during the bottom of the first inning, when Detroit's Jhonny Peralta hit a single to left. Miguel Cabrera made an ill-advised decision to try to score from second base as the throw came in from left field.
Ross received the ball in plenty of time and blocked Cabrera's path to the plate. The catcher would later say there was time to get out of the way and make a swipe tag, but if Cabrera had slid, Ross didn't want to risk missing the tag, so he stood his ground.
Cabrera didn't back down, either, and ran into Ross, who was able to hang onto the ball. That not only saved a run for Boston but also ended the inning and helped left-handed starter Jon Lester escape a serious jam on the mound.
The next inning, a similar play unfolded with Ross on the basepaths after he recorded an RBI double to help spark a key rally. Ross later advanced to third and tried to score on a grounder hit to Tigers second baseman Omar Infante.
Detroit catcher Alex Avila received the ball early, and it appeared as though Ross was going to be out by several feet. That's when natural instincts kicked in and prompted Ross to get low to the ground and lead with his shoulder in an attempt to knock the ball loose.
Both Ross and Avila went flying, but the ball stayed put and resulted in an out. There was no wor