Salty to be back behind the dish on Saturday
Salty to be back behind the dish on Saturday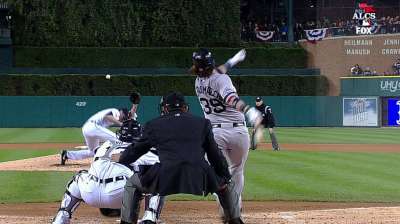 BOSTON -- Jarrod Saltalamacchia was the primary catcher all season, but the team was never shy about using backup David Ross.
For Game 6 of the American League Championship Series, which continues on FOX on Saturday at 8 p.m. ET, Saltalamacchia will be back behind the plate.
Ross started both games this series in which Jon Lester pitched because of the successful way they worked together in Lester's recent starts. But with Clay Buchholz on the mound against Max Scherzer on Saturday, Saltalamacchia was the choice.
Saltalamacchia has hit .333 off Scherzer in his career and is hitting .273 with five RBIs off him this postseason.
"The biggest thing is just hitting their mistakes," Saltalamacchia said. "When they make mistakes over the plate, we can't let them get away with it."
Ross had a big night on Thursday, going 2-for-3 with a double while being involved in a pair of home-plate collisions, one of them knocking Tigers catcher Alex Avila out of the game.
Ross is 3-for-9 this postseason, his fifth as a Major Leaguer.
Ian Browne and Jason Mastrodonato are reporters for MLB.com. This story was not subject to the approval of Major League Baseball or its clubs.