Papi, Napoli to share first-base duties in St. Louis
Papi, Napoli to share first-base duties in St. Louis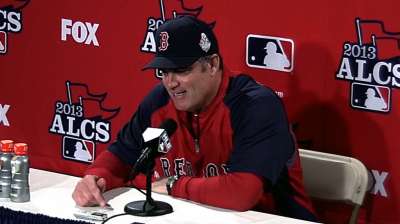 BOSTON -- It was an obstacle the Red Sox overcame in 2004 and '07, but one they still don't look forward to.
When the World Series shifts to St. Louis for Games 3, 4 and 5 (if necessary), Boston loses the designated hitter.
That means David Ortiz will have to dust off his glove and play first base, which he did six times during the regular season. And it also means that Mike Napoli -- who hit two big home runs in the American League Championship Series -- will be on the bench in the games that Ortiz starts at first.
And assuming Napoli gets one start in St. Louis, Ortiz will be out of the lineup for that game.
Conversely, the Cardinals get an extra hitter in their lineup for the games at Fenway.
"Well with David going to first base, which he will when we get over to St. Louis, how many days he'll play in those three games there remains to be seen," said Red Sox manager John Farrell. "It is different for us. Personally, when we go into National League ballparks, I think we're in a greater disadvantage than the reverse of that when National League teams come in here."
Ian Browne is a reporter for MLB.com. Read his blog, Brownie Points, and follow him on Twitter @IanMBrowne. Jason Mastrodonato is a reporter for MLB.com. Follow him on Twitter @jmastrodonato. This story was not subject to the approval of Major League Baseball or its clubs.