Nava understands Farrell's lineup choices
Nava understands Farrell's lineup choices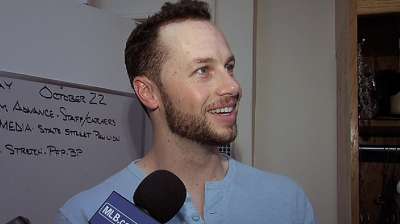 BOSTON -- Daniel Nava hit .303 with a .385 on-base percentage during the regular season. He was the only Red Sox player to get a hit in Game 1 of the American League Championship Series. Yet he was on the bench for four of the next five games.
It looks like that trend will continue in Game 1 of the World Series against the Cardinals on Wednesday.
"We haven't made out Wednesday's lineup yet, but can't go away from maybe a little bit of momentum that a certain lineup has provided for us," hinted manager John Farrell.
The "momentum lineup" is one that has included Jonny Gomes in left field, even against right-handers (Gomes spent most of the season on the other side of the platoon), and Xander Bogaerts at third base ahead of Will Middlebrooks.
Gomes has five hits and two walks in 25 postseason at-bats while Nava has three hits and three walks in just 11 at-bats, though Farrell has cited the "intangibles" that Gomes has been bringing to the lineup. Gomes is second on the team in runs (six) to leadoff hitter Jacoby Ellsbury (10).
Nava had no hard feelings when asked about his role.
"Skip came up to me and said, 'Hey, man, just wanted to let you know I've still got you, yada yada,' and I said, 'If you want to put [Gomes] in there, that's great. If you want to put me in there, that's great.' We just want to win the World Series," Nava said. "We've gotten to this point. Whatever combination he wants to put out there that gets us four more wins, I don't think any of us will complain.
"You don't play 162 games to all of a sudden get selfish in the playoffs. You play 162 games to be selfless in the playoffs so we can go out there and win. I know everyone says it, but if we were looking at it any other way, we'd have problems, we wouldn't be in this spot. We'd be bickering and fighting. As you've seen, that's the last thing that goes on in this clubhouse."
Nava compared the situation to choosing flavors of ice cream.
"I don't think it's a bad thing," he said. "If anything, it's a problem that's good to have. It's like when you're looking at ice cream -- what's your favorite ice cream? I've got two flavors. Is it bad I love both these flavors this much? Now, we are not ice cream, but the same thing -- neither of them are bad. Jonny, if they put me in, either way, we've got a good chance to help the team win."
Gomes, who was 3-for-16 with seven strikeouts in the ALCS, said he and Nava still talk often and their relationship hasn't been tarnished.
"It's not really about us, him and I," Gomes said. "It's not about playing time between he and I … You don't compete with someone wearing the same uniform as you. If I was to waste energy hoping my platoon mate would fail so I would get in, that's just negative energy and it doesn't work. If he shines, we win. If I'm fortunate to shine, we win.
"It's our left field. It's not what name or what guy is out there. It's our left field."
Ian Browne is a reporter for MLB.com. Read his blog, Brownie Points, and follow him on Twitter @IanMBrowne. Jason Mastrodonato is a reporter for MLB.com. Follow him on Twitter @jmastrodonato. This story was not subject to the approval of Major League Baseball or its clubs.