Ellsbury can relate to No. 1 prospect Bogaerts
Ellsbury can relate to No. 1 prospect Bogaerts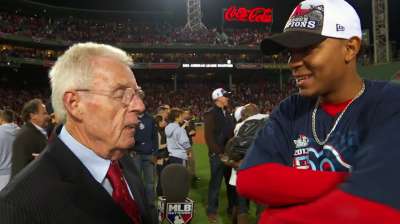 BOSTON -- The last time the Red Sox reached the World Series, they had a September callup named Jacoby Ellsbury, who suddenly became a cornerstone player at the most important time of year.
Ellsbury got hot at the right time, and the Red Sox swept the Colorado Rockies.
Six years later, he is the established veteran in center field who has admired the way top prospect Xander Bogaerts -- promoted to the Major Leagues on Aug. 19 -- has played his way into a starting spot.
Manager John Farrell put Bogaerts in the starting lineup at third base for the first time in this postseason for Game 5 of the American League Championship Series. In 2007, Ellsbury took over for Coco Crisp beginning with Game 6 of the ALCS.
"Bogaerts, he's done a tremendous job getting thrown into a big environment like he has," Ellsbury said. "He's done tremendously. I know he's had some big at-bats for us where he's drawn walks, had some big hits. He's mature beyond his years."
Perhaps it's easier for Ellsbury to appreciate now what he did in that same situation in 2007? At the time, he felt like he was just doing his job.
"In 2007, everything happened so quick. I got called up, got put on the postseason roster and won a World Series," Ellsbury said. "Everything happened so fast. This year, I think, it's so hard. No matter how quality of a team you have, it is tough to get to this point. I think this year, I'm definitely enjoying it, slowing it down a little bit and definitely enjoying the whole process a little more."
Ian Browne is a reporter for MLB.com. Read his blog, Brownie Points, and follow him on Twitter @IanMBrowne. Jason Mastrodonato is a reporter for MLB.com. Follow him on Twitter @jmastrodonato. This story was not subject to the approval of Major League Baseball or its clubs.