Nava likely to be in left when Series hits St. Louis
Nava likely to be in left when Series hits St. Louis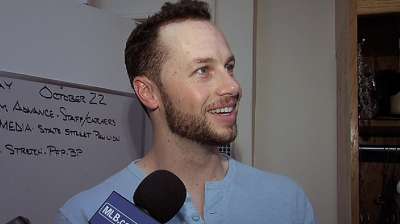 BOSTON -- Despite a strong regular season, left fielder Daniel Nava has been a bit of a forgotten man in the postseason. Coincidence or not, the Red Sox entered Game 1 of the World Series with a 6-0 record in games started by Jonny Gomes.
While Gomes got the nod on Wednesday night and is likely to start Game 2 against righty phenom Michael Wacha, Nava should resurface when the series shifts to St. Louis for the middle three games.
"There's going to be more ground to cover in St. Louis," said Red Sox manager John Farrell. "When you look at the splits between [Lance] Lynn and [Joe] Kelly, they're a little bit more pronounced than the first two guys. That's a scenario we're strongly considering. How many games [Nava will play] remains to be seen, but that's another thing we're factoring in, is how much ground to cover there."
While Gomes plays a strong left field at Fenway, Nava's added range is helpful in bigger parks.
"Jonny has done an excellent job in the time that he started, evident by the way that we've performed as a team, but I can't single him out as the reason why," said Farrell. "He plays left field extremely well here [at Fenway]. Nava [is] on board and very much a team player. He admits and recognizes to his credit that this is about us as a team and not an individual."
In other lineup news, David Ross got the nod behind home plate, marking the third straight time he has caught ace Jon Lester.
Ian Browne is a reporter for MLB.com. Read his blog, Brownie Points, and follow him on Twitter @IanMBrowne. Jason Mastrodonato is a reporter for MLB.com. Follow him on Twitter @jmastrodonato. This story was not subject to the approval of Major League Baseball or its clubs.