Bogaerts at third for first World Series start
Bogaerts at third for first World Series start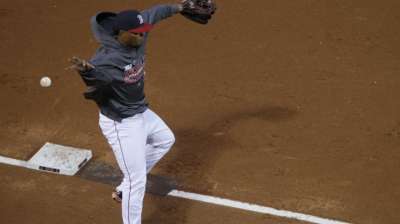 BOSTON -- At the age of 21, Aruba native Xander Bogaerts isn't the youngest player of Dutch descent to appear in a World Series.
It's hard to forget what Curaçao native Andruw Jones did for the Braves in 1996, belting two homers in Game 1 at Yankee Stadium as a 19-year-old.
Jones actually texted Bogaerts after the Red Sox won the pennant.
"We talk, but not every day. Probably two or three times a month," said Bogaerts. "The day we won it, probably the day after, he just told me, 'Congrats and go for it.'"
Bogaerts is definitely getting that chance. It was a surprise to nobody that he started at third base for the Red Sox in Game 1.
Manager John Farrell made the switch beginning with Game 5 of the American League Championship Series, inserting Bogaerts in place of Will Middlebrooks.
The biggest challenge for Bogaerts is that he's still adjusting to life at third base. His natural position is shortstop.
"I've been talking to [infield instructor Brian] Butterfield about this. I'm normally a shortstop," Bogaerts said. "I always get my [pregame] work at shortstop and then at third. But if I get it at third first, something feels different. Third base, you've got to stay low, so I feel like I'm not doing anything at third. So that's why I talked to him about a new routine, so I take a few at short, get feeling happy, and then move to third."
Farrell couldn't be any happier with the spark Bogaerts has provided for his team.
It isn't every day that a 21-year-old starts Game 1 of a World Series.
"Well, what's not normal is Xander Bogaerts," Farrell said. "He's not a typical 21-year-old. We've talked a lot about the poise, the presence, the composure in which he plays. Even in the tightest moments, the smile never seems to leave his face. He might be flying on the inside, but externally there's no outward anxious moments. And he certainly performed much the same."
Ian Browne is a reporter for MLB.com. Read his blog, Brownie Points, and follow him on Twitter @IanMBrowne. Jason Mastrodonato is a reporter for MLB.com. Follow him on Twitter @jmastrodonato. This story was not subject to the approval of Major League Baseball or its clubs.