Loss of Napoli's glove also hurts Red Sox
Loss of Napoli's glove also hurts Red Sox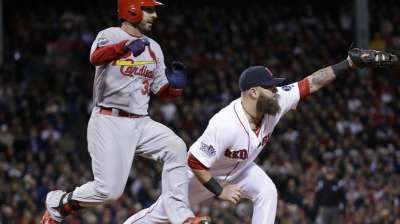 ST. LOUIS -- By inserting David Ortiz at first base for Game 3 of the World Series, not only do the Red Sox lose one of their most productive bats in Mike Napoli, but also one of their best fielders throughout the season.
Though Napoli didn't finish as one of the top three finalists at first base in the American League Gold Glove voting, many of the metrics suggest that he should have.
"He's done an outstanding job there," said Red Sox manager John Farrell. "And you're always going to feel that way about your own guy because you see the amount of work they put in and all that's gone into that with the work of [infield instructor Brian Butterfield] and [Napoli]. In our mind, he is [a Gold Glover]. And really, all these other awards are outward acknowledgements of the work that guys do, but he's no less important than anyone that has received a Gold Glove here."
If the Red Sox are leading in the late innings of Game 3, it is a certainty that Napoli will sub for Ortiz on defense. Farrell will be cognizant of that when it comes to a proper spot for Napoli to pinch-hit.
"If we do have a lead in the sixth or seventh inning, he's more than ready to go to pick up for David at first," said Farrell. "That's why we've got to be a little careful when to use him as a pinch-hitter as well, to preserve that defensive side of it."
One interesting development during Saturday's batting practice was Napoli taking grounders at third base. Napoli has never played that position in his Major League career. He played one game there at the Minor League level in 2002.
Though it seems unlikely Napoli would play third beyond an emergency situation in the World Series, Farrell hasn't ruled it out entirely.
"It's being thought of," Farrell told FOX's Ken Rosenthal.
"Not tonight, but it's an option," Farrell told Sean McAdam of CSNNE.com.
Without Napoli in the lineup for Game 3, Daniel Nava batted fifth, making his first World Series start in place of Jonny Gomes in left.
Ian Browne is a reporter for MLB.com. Read his blog, Brownie Points, and follow him on Twitter @IanMBrowne. This story was not subject to the approval of Major League Baseball or its clubs.