Ross over Salty; slumping Drew stays in lineup
Ross over Salty; slumping Drew stays in lineup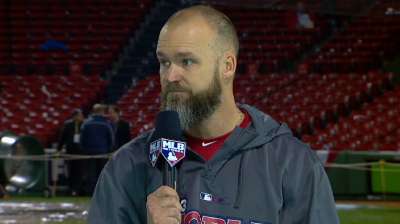 ST. LOUIS -- Before the postseason started, the general line of thinking was that Jarrod Saltalamacchia was Boston's best offensive catcher and David Ross probably had the edge on defense.
But with Saltalamacchia slumping along with some other key Boston hitters, manager John Farrell went to Ross in Sunday night's Game 4.
Ross has actually looked good in a small sample size at the plate this October, going 4-for-13.
Saltalamacchia is 6-for-32 (.188) in the postseason with 19 strikeouts.
"We're looking to get some spark, to get some offense going," Farrell said. "That's why David is in there today."
However, the heavily slumping Stephen Drew (4-for-44, 17 strikeouts, one walk) remained at shortstop.
Plan B would have been to play Xander Bogaerts at short with Will Middlebrooks at third. Instead, Bogaerts remained on the hot corner.
"If we would be able to guarantee an uptick of offensive production elsewhere, you've got to prioritize one over the other, and the constant has been [Drew's] defense," Farrell said.
Ian Browne is a reporter for MLB.com. Read his blog, Brownie Points, and follow him on Twitter @IanMBrowne. This story was not subject to the approval of Major League Baseball or its clubs.