Long season won't alter pitchers' winter work much
Long season won't alter pitchers' winter work much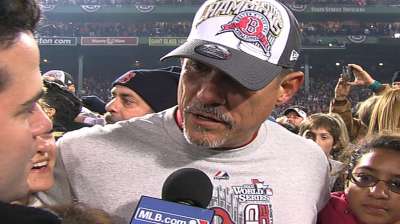 BOSTON -- It's only been six weeks since the Red Sox's championship parade, but pitching coach Juan Nieves already has the wheels turning when it comes to plans for his hurlers in 2014.
Nieves said the fact the team pitched so deep into the fall won't have much of an effect on offseason training regimens, but some pitchers will take it easy at the beginning of Spring Training.
Left-handed reliever Craig Breslow, for one, has yet to start throwing. During a typical offseason, he starts his workouts around the beginning of December.
"I think I can undertake a pretty normal offseason," Breslow said. "I'll get to work out pretty extensively and spend a lot of time getting myself as strong as possible, but not pick up a ball until a little bit later."
According to Nieves, that should be the norm for Red Sox pitchers -- working on strength while not throwing as early or as violently during their down time.
When it comes to Spring Training, Nieves said most pitchers should be good to go. The exceptions will be starters Jon Lester and John Lackey, as well as the bullpen big three of Koji Uehara, Junichi Tazawa and Breslow. Those five saw arguably the highest volume of high-intensity innings of the entire staff.
"You have to take into consideration the innings of last year [when managing the staff in 2014]," Nieves said. "Remember one thing: When the bell rings, they have to be ready. March 31 is Opening Day, and that game is just as important as the last game of the season."
Tim Healey is a contributor to MLB.com This story was not subject to the approval of Major League Baseball or its clubs.