Peavy hopes to miss just one start as finger heals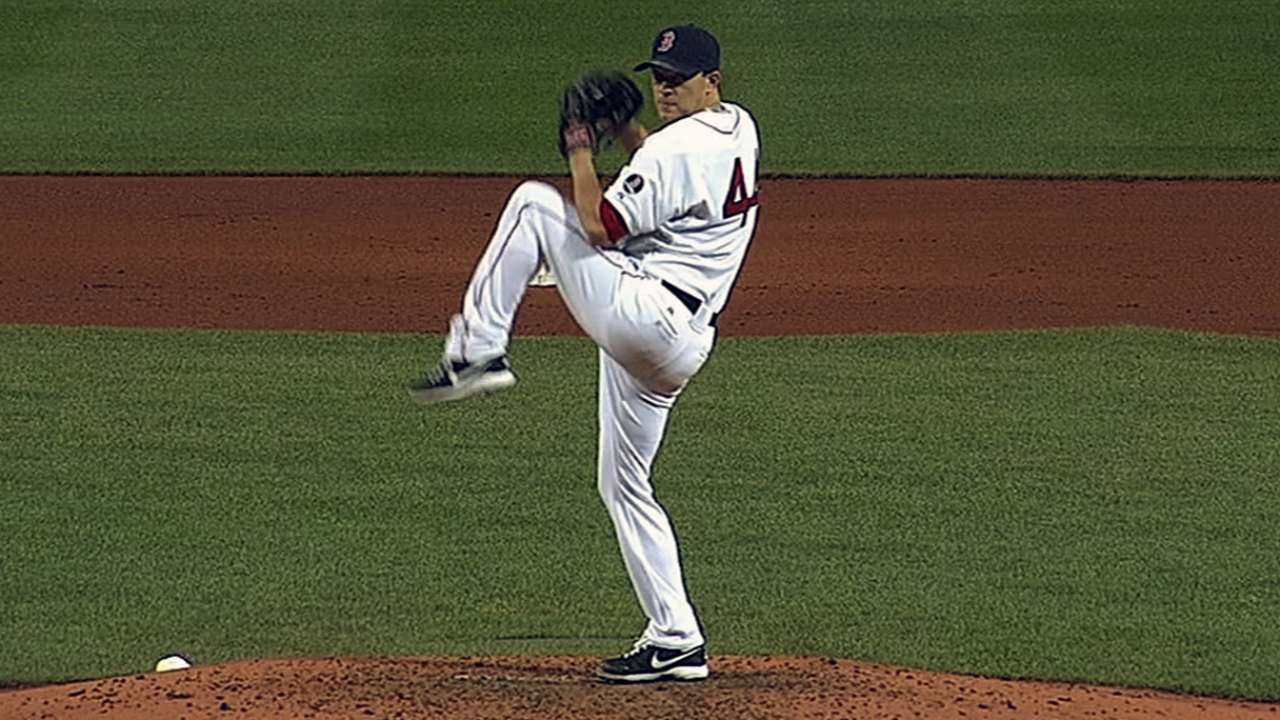 BRADENTON, Fla. -- Jake Peavy's mishap with a fishing knife, though painful and scary, might only force him to miss one Grapefruit League start.
At least that's what Peavy, who suffered a laceration of his left index finger, is hoping.
"I don't think it's going to be long at all. I would like to get out, play some catch and do some stuff tomorrow," Peavy told reporters in Fort Myers, Fla. "The biggest thing is they're not going to let me sweat until the healing process takes over. I believe I'm going to play catch, and I would love to tell you I'm going to make my next start. That's certainly what I'm aiming for, and hopefully we can do that and get back on schedule and it doesn't mess things up too much."
The righty, who loves the outdoors, was just trying to have a nice day with his son on Saturday before the freak accident occurred. He would have started on Monday against the Pirates if not for the accident.
"Just getting ready to go fishing," Peavy said. "I promised my little boy I would take him fishing, so we went to Bass Pro and we bought us some rods and reels that were combo'd. I was trying to cut the wire tie that was holding them together. Using the knife with my right hand and holding the rod with my left, and when I broke the wire tire, it struck the knuckle pretty good."
At first, Peavy didn't realize how bad he had cut himself.
"It's a bummer. I didn't think it was that crazy bad to the point I didn't seek medical attention," said Peavy. "That day we wrapped it up and went fishing. I came in here yesterday and realized we needed to have it stitched up and we would have to take some precautionary measures.
"You just don't want to risk infection. I could go out and play today if it was a must, but you can't risk infection and let it sweat. And me not getting it tended to right off the bat, you just don't want to get it infected, and that's the reason we're going to hold off a day or two."
The more Peavy talked about the incident, the more painful it sounded.
"It's right on the knuckle," Peavy said. "It was more of a jab ... it was a brand-new knife out of the packet, which is huge as well. I had just bought the knife. It was big -- it was a brand-new knife, pretty sterile. But a brand-new knife, it was pretty sharp as well."
Ian Browne is a reporter for MLB.com. Read his blog, Brownie Points, and follow him on Twitter @IanMBrowne. This story was not subject to the approval of Major League Baseball or its clubs.