Slick-fielding Marrero continues to impress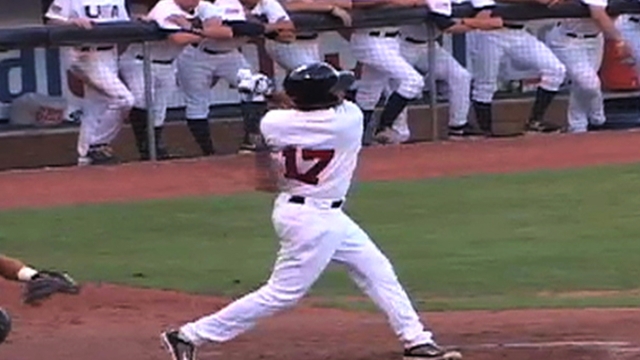 JUPITER, Fla. -- Before pulling off a trade with the Tigers last July, the Red Sox had a young shortstop who pushed his way to the Major Leagues largely on the strength of an excellent glove.
Could Deven Marrero be the next Jose Iglesias? Perhaps it's not a fair comparison, but in Thursday's Grapefruit League game against the Cardinals, Boston's latest slick-fielding shortstop prospect put on an impressive show.
"Not comparing him to Jose," manager John Farrell said, "but if the need were to arise, based on what he showed last year and in his first year of professional baseball, and the way he goes about his drill work and what we see on the field, we'd be hard-pressed to find a shortstop that's going to make better plays than that. Four or five different types of plays within a given game. He came through the Draft with that calling card, as an elite defender, and he's showed that."
Marrero completed some routine plays, but also executed a diving stop on a ground ball up the middle, snared a line drive to the third-base side and made an acrobatic turn on a 4-6-3 double play with a runner breathing down his neck.
"Defense is my thing, so I'm ready every pitch and I expect anything," Marrero said. "Everything else just happens, it just flows. It happens so quick that you don't have time to think. You just react."
The 23-year-old was the 24th overall pick of the 2009 First-Year Player Draft out of Arizona State, and last year he split his first full Minor League season between Class A Advanced Salem and Double-A Portland. He hit .252/.338/.317 overall, with 20 doubles, two home runs and 27 stolen bases.
Marrero did pick up two singles in four at-bats on Thursday, but his glove stood out the most. It's likely what will carry him toward the big leagues, even if his path could be blocked for the foreseeable future by the even younger Xander Bogaerts.
"I don't look ahead," Marrero said. "What I like to think is I just have to go out there and play every day and do what I can to get better that day and let everything take care of itself. All that stuff's out of my hands. Xander's a great player. He's there for a reason and they trust him for a reason.
"The Red Sox are going to put the players out there that they need to win the World Series. They have trust in him right now. The season's going to play out, and I'm going to do my thing, and when they think I'm ready, I'll be ready."
Andrew Simon is a reporter for MLB.com. Follow him on Twitter @AndrewSimonMLB. This story was not subject to the approval of Major League Baseball or its clubs.