Peavy, Victorino close to appearing in games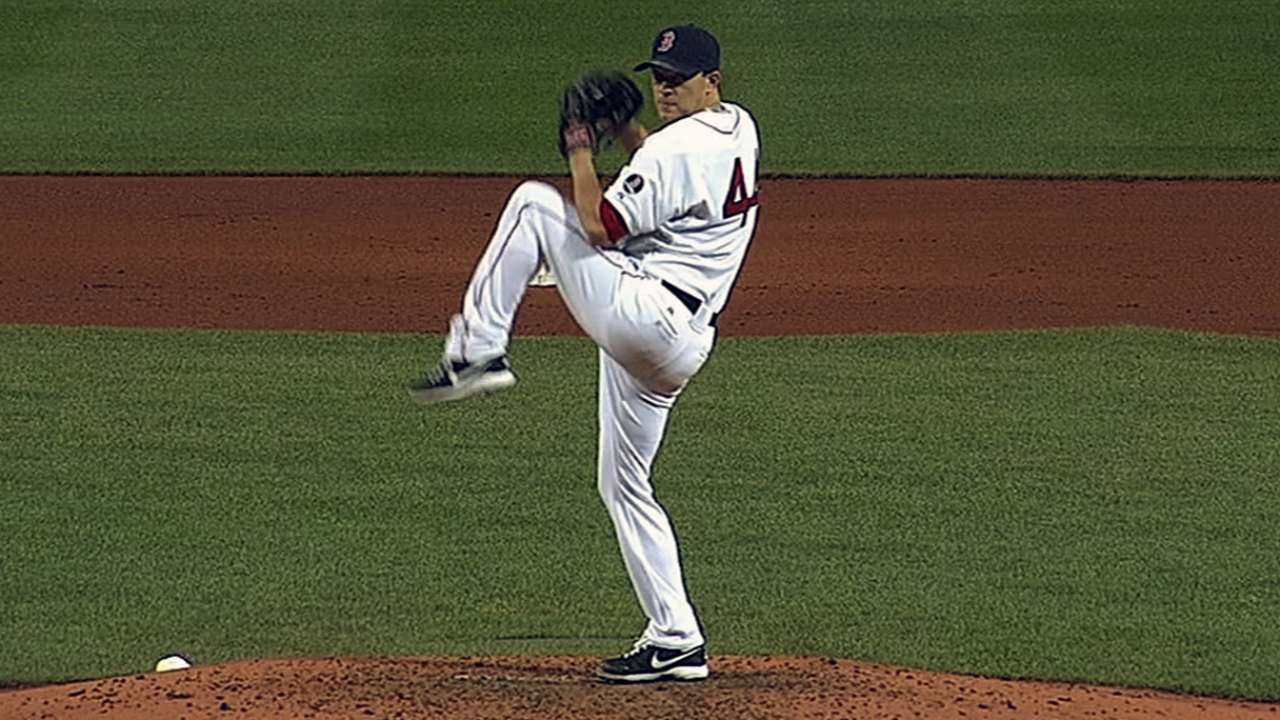 FORT MYERS, Fla. -- Two of Boston's key injured players are getting closer to a return to the field. Manager John Farrell said Friday morning that Shane Victorino and Jake Peavy should both be able to play by next week, contingent upon them continuing to make progress in their recoveries.
Victorino, who struggled with leg and back ailments last season, is working through the final rounds of strength and agility drills. Peavy, recovering from a knife wound to his left index finger, could pitch in a game as early as Wednesday, and Farrell said he'll go through a bullpen session Saturday.
"Tomorrow, he'll have an extended bullpen where he'll simulate some up-and-down," said Farrell. "After that, he projects to be back in a game [four] days from tomorrow. The wound is healing satisfactorily. Given all things considered, he's making good progress with it."
Peavy, if all goes well, will still be able to make four or five starts in Spring Training. Farrell said Boston will watch him closely, but barring any setbacks, he could be ready to start the season.
"At this point, yeah. And yet, we'll monitor it as we get through his times on the mound," Farrell said. "We're looking at the 12th being the first start. That gives him probably four additional starts here. We're not going to skip steps, but we feel like there's ample time to ramp him up."
Victorino, who declined comment except to say that he "feels good," still has plenty of time to return to the field. The Red Sox want to make sure that everything is in working order before they test him in game action, but the veteran doesn't seem like he's far away from the field.
"Hopefully, early next week," said Farrell on when he expects to have Victorino back in action. "He's making solid progress. He came out of yesterday's work feeling good. He's got more range of motion in all of his activities on the field and is responding very favorably at this point."
Victorino batted .294 with 15 home runs and 82 runs scored in 122 games last season, and the Red Sox have held him off the field in order to preserve him for the long haul. Farrell said that Victorino has a few days left of work, and that even when he returns, he'll do so in gradual bits and pieces.
"Just everyday work that he'll go through with the team," he said. "And once we do get him back on the field, then it's a matter of just a gradual buildup from length inside a given game -- number of at-bats, number of innings played. More importantly, he's getting closer to getting back on the field. We had anticipated that, but there was some work that needed to be done before getting in the lineup."
Spencer Fordin is a reporter for MLB.com. This story was not subject to the approval of Major League Baseball or its clubs.