Buchholz pleased with second spring start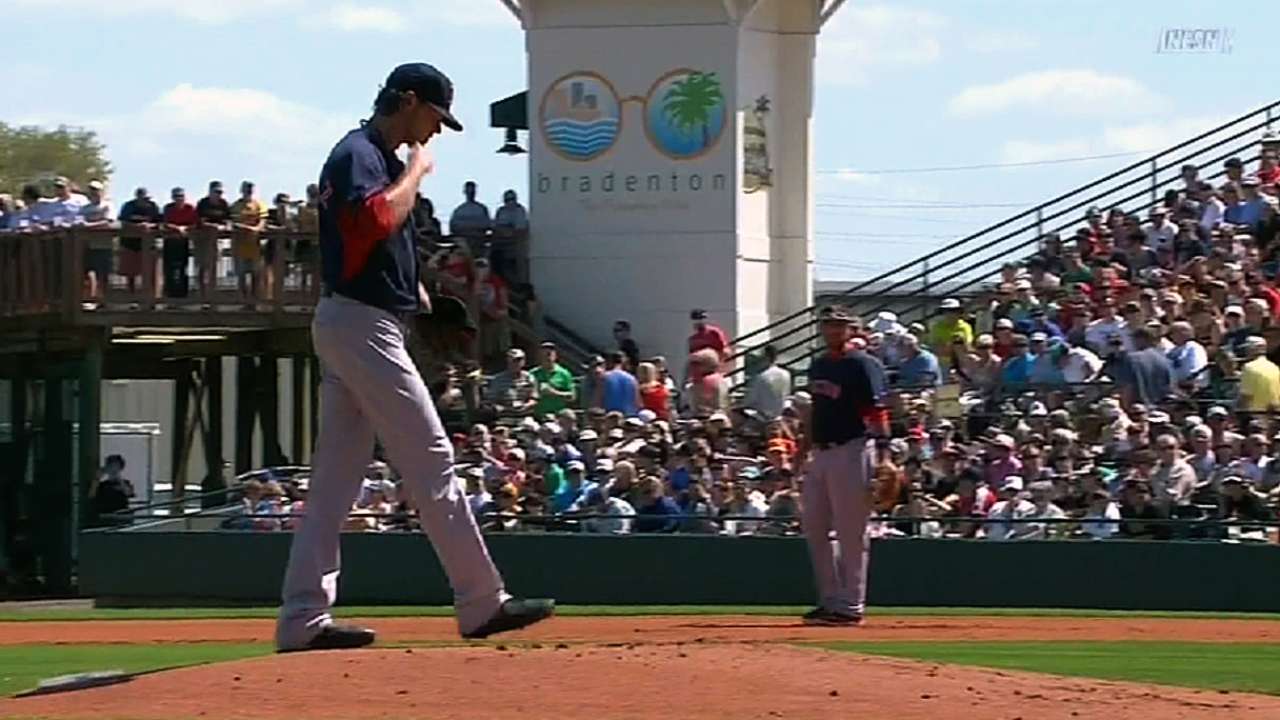 BRADENTON, Fla. -- The shoulder feels strong, and so does the two-seam fastball.
Clay Buchholz came out of his second Spring Training start with some encouraging returns on Sunday, and he said he definitely made progress from his spring debut. Buchholz threw three hitless innings against the Pirates at McKechnie Field and seemed pleased with his outing.
"I definitely felt a little bit better than I did last time out," Buchholz said during Boston's 4-1 victory over Pittsburgh. "I was able to locate the two-seamer the first time in the first and second inning. I felt like I needed to work on a couple more pitches, but I felt good. I felt the direction and the movement and everything was there. I didn't ever try to overthrow. That's where I need to be, right now."
Buchholz was untouchable last spring, when he notched a 0.79 ERA in six starts during the Grapefruit League season. His momentum carried over to the 2013 campaign. Buchholz was 9-0 with a 1.71 ERA in his first 12 starts of the season, but wound up missing three months with a case of bursitis in his pitching shoulder.
The right-hander was able to come back and pitch in September, as well as take the ball during the postseason. He said on Sunday that he feels much as he did last Spring Training.
"I feel as fresh as I was then," said Buchholz of his shoulder. "Nothing awkward feeling or anything. I don't feel like I'm compensating for anything. I feel pretty right at home, right now."
Buchholz walked one batter and struck out one batter on Sunday, and he stymied Pittsburgh's bats -- despite not really having command of his entire arsenal. Boston catcher David Ross said that Buchholz didn't have the best command of his offspeed stuff, but still found a way to make it work.
"He's not as sharp as I'm sure he'd like to be yet. But that was a good outing for the stuff he had," said Ross. "The breaking ball was good, [though we] didn't use it much. The changeup, we didn't use at all today. ... He's a veteran pitcher and understands how to use the sinker. For some of the young guys, that's the main thing you've got to learn. Fastball command makes everything else better."
Buchholz threw 40 pitches in the bullpen before his 29-pitch outing, and he said it was a good workout for this point in the spring.
"Physically, he's responded to the gradual ramping up that we're doing with him," said manager John Farrell. "He's in a good place. Today was a very good work day for him."
The 29-year-old threw a few curves in the third inning, but he said the day was more or less about his two-seam fastball.
"I missed over the plate a couple times with it," said Buchholz, "but I got some late-contact, ground-ball outs.
"That's the one pitch I throw a lot of. I basically rely on it to get the ground-ball outs in those situations and early contact in the count. If you're throwing strikes, they're going to be swinging."
Spencer Fordin is a reporter for MLB.com. This story was not subject to the approval of Major League Baseball or its clubs.