Farrell: Bradley Jr. still the favorite in center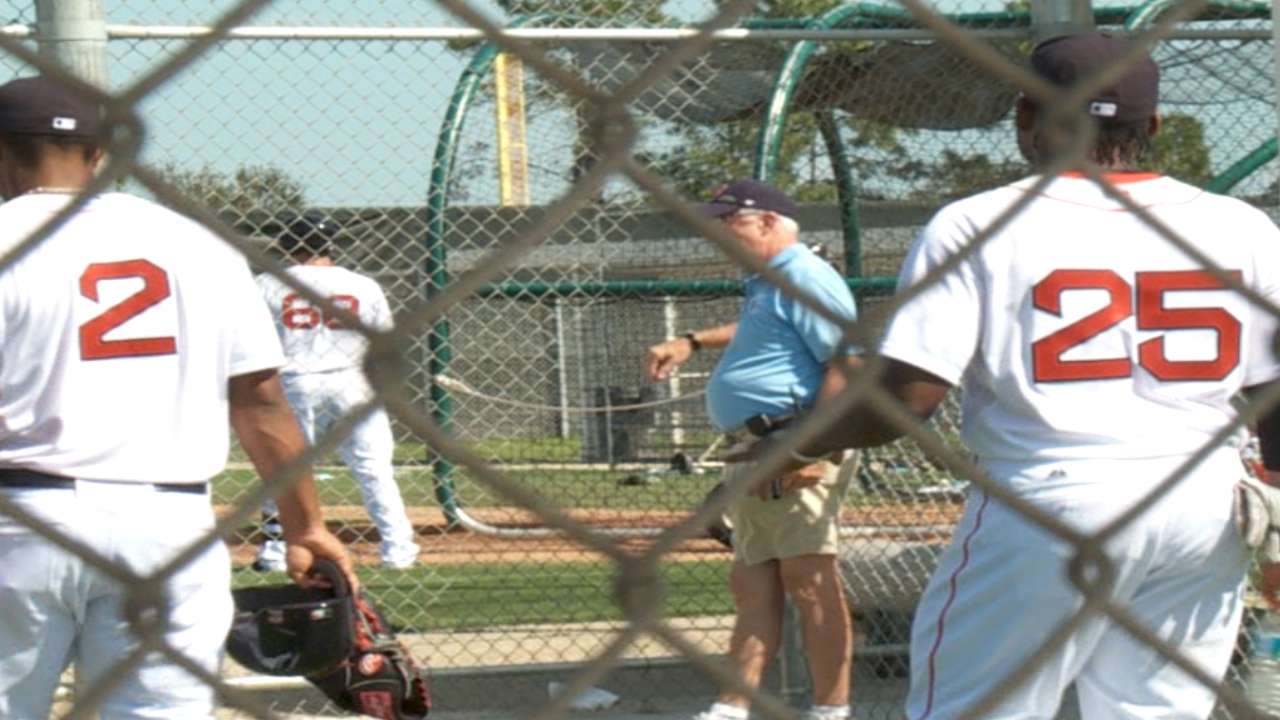 FORT MYERS, Fla. -- Though Grady Sizemore has impressed everyone with his camp thus far, manager John Farrell indicated on Saturday that Jackie Bradley Jr. is still the favorite to be the team's Opening Day center fielder.
"We came into camp with Jackie as the guy," Farrell said. "We projected him as the starting center fielder, and I don't think anything has radically changed that thought. But we can't deny the thought that Grady Sizemore has looked very well in camp."
Sizemore hasn't played in the Majors since 2011, so there are questions that still need answers.
"We're still in the process of trying to get our arms around his durability," said Farrell. "We'll extend him a little bit [Saturday night], where he's going to go, maybe seven or eight innings, possibly a full game, so we're starting to get a little more of a test, and maybe answers to some of those tests."
Sizemore wound up playing eight innings against the Phillies on Saturday and went 1-for-4. He will take Sunday off and probably return to action on Monday against the Cardinals.
"I didn't think much of it, just another game," Sizemore said. "But everything felt good, started off feeling good, finished feeling good, so see how I come in tomorrow and build off of that."
The way the roster is currently constructed, it would be hard for both Sizemore and Bradley to make the team.
"I can't say we wouldn't do that," Farrell said. "But there's also limits to the roster. And I think the one thing I have said many times, the one thing we've benefited from is a deep and talented roster. Early in the season, you want as many of those players as you can. If that causes decisions one way or the other to keep the many good players you have, that's something we'll arrive at before we break here."
While it's certainly possible the Red Sox could see if Sizemore was interested in playing in extended Spring Training, that scenario hasn't been discussed yet in any formal capacity.
"We haven't gotten to that point," Farrell said. "We wanted to take a look at Spring Training itself and see how things unfolded, because before games were played or before we even got onto the field, we didn't know how he was going to respond physically to the day to day volume. And it's been favorable.
"His timing at the plate has looked very good. He might say otherwise based on his own comfort level, but just outwardly looking at him, he doesn't look like he's missed two years."
Sizemore drilled a single up the middle to lead off the bottom of the first in Saturday's game.
Ian Browne is a reporter for MLB.com. Read his blog, Brownie Points, and follow him on Twitter @IanMBrowne. This story was not subject to the approval of Major League Baseball or its clubs.