Battling for roster spot, Bradley sees quiet day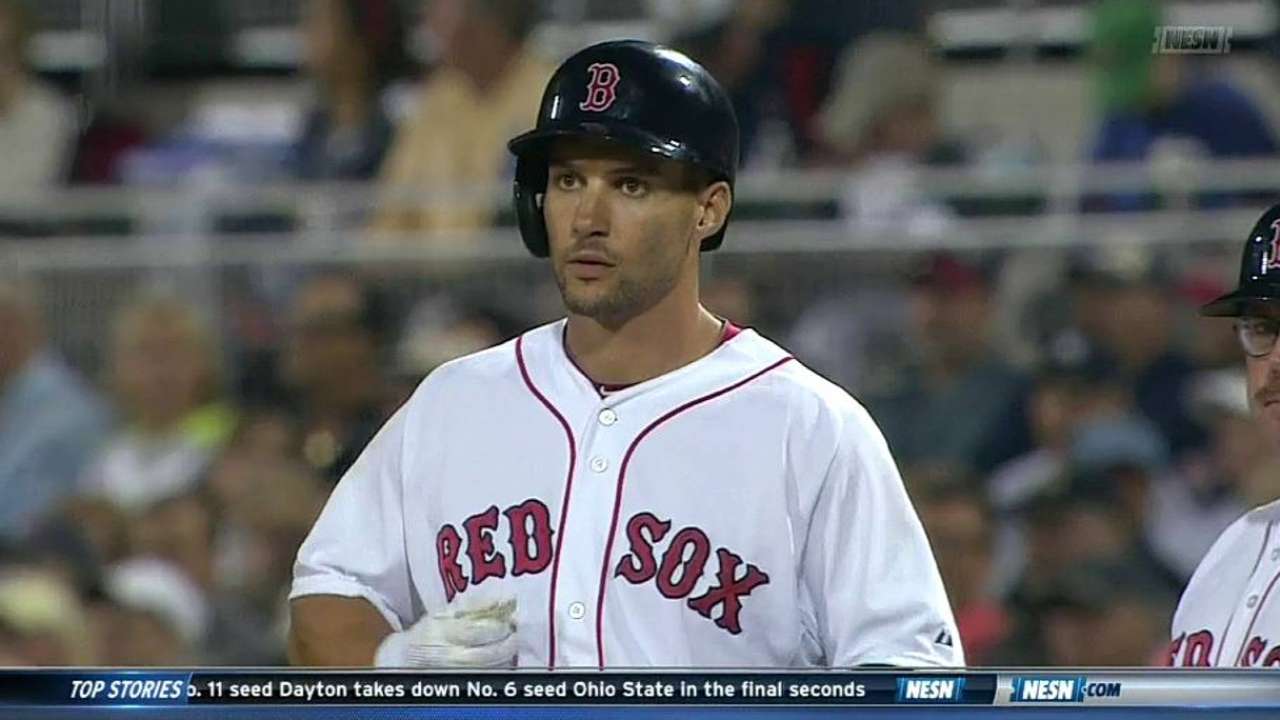 CLEARWATER, Fla. -- A year ago, when Jackie Bradley Jr. faced Phillies ace Cliff Lee in Spring Training, he belted a homer over the left-center-field fence at Bright House Field in his first at-bat -- a three-run blast that may have clinched Bradley's spot on the Opening Day squad last year.
On Friday, Bradley, who this spring is battling Grady Sizemore for the center-field job and a place on the season-opening roster, started in center field and went 0-for-4, dropping his average to .182.
Meanwhile, told that scouts have said that Sizemore, who is batting .360 this spring, doesn't look like a guy who hasn't played organized ball in two years, Red Sox manager John Farrell said, "I totally agree.
"It's pretty amazing, given the time missed. It just speaks to his athleticism and the low-maintenance swing."
However, the Red Sox remain concerned about Sizemore's durability. Assuming he makes the team, they may limit him to a "recommended number of games played per week," at least in the beginning.
"To say we have a read on his durability, that's premature," Farrell said. "I think we need to get through this coming week first."
That is why the 23-year-old Bradley, who was the surprise of camp last spring when he batted .419 to earn a spot in the Opening Day lineup despite having never played above Double-A, remains very much in the center-field picture.
Sizemore did not make the trip on Friday. He is scheduled to appear in a Minor League game on Saturday and then start in games on Sunday and Monday. That will be the first time he has played three games in a row this spring.
"At-bats, innings played, back-to-back games -- we have a very detailed plan mapped out that we're following," the Red Sox manager said. "But every piece of feedback from the medical staff has been positive.
"The most encouraging thing is he hasn't hit the proverbial wall where we're bumped up against the limit and now we have to pull back. We haven't reached that yet which is all positive. We have every reason to believe he's a likely candidate to become an everyday player with durability on his side at some point.
"We're looking to put the best team on the field every night with the intent of trying to win every game. So if rest is built into the scenario, we'll factor in everything at our disposal."
Sent down to Triple-A for more seasoning last year, Bradley batted .189 in four Major League callups.
Jim Hawkins is a contributor to MLB.com. This story was not subject to the approval of Major League Baseball or its clubs.