Bradley optimistic despite struggles at plate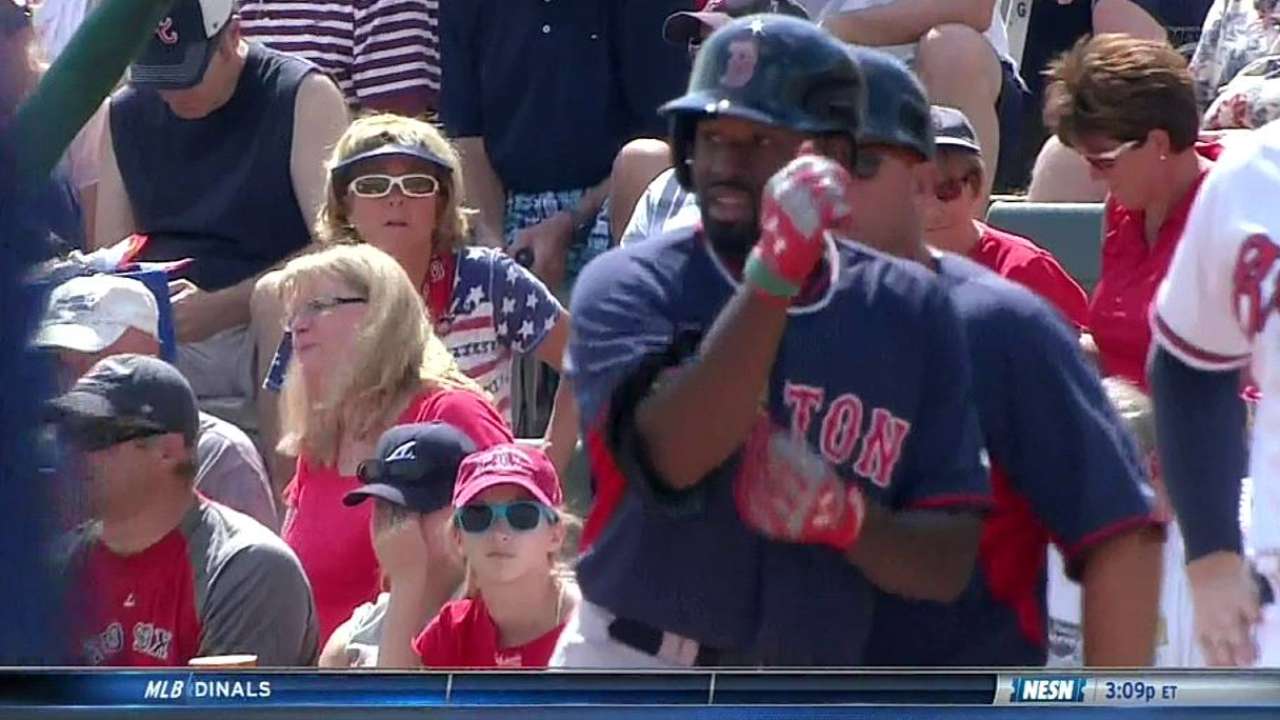 LAKE BUENA VISTA, Fla. -- Red Sox outfielder Grady Sizemore has been one of the great stories of Major League Baseball this spring, overshadowing his competitor to replace departed center fielder Jacoby Ellsbury: Jackie Bradley Jr.
As Sizemore, 31, makes an impressive comeback from missing the past two seasons due to back and knee injuries, Bradley has struggled. He entered Saturday's game against the Braves at Champion Stadium batting .182 (8-for-44) with only two runs scored in 14 games.
He finished 1-for-3 with an RBI single in Boston's 6-3 loss to Atlanta. The base hit helped him bring his average up from .167 to .191 in the past five games.
Despite his struggles, Bradley, who will turn 24 in April, remains optimistic as the final week of Spring Training approaches. Although his numbers are not at an ideal level, he likes the progress he has made in changing his plate approach.
"Being aggressive," said Bradley, of how he has improved this spring. "Taking a lot of swings early. That's what I've really been focusing on, not so much being passive, but just trying to be aggressive, see some pitches and get your swings in."
Bradley's struggles this spring mirror those he endured in 37 games with the Red Sox last season. He batted just .189 (18-for-95) with 31 strikeouts.
However, Bradley has otherwise wielded a productive bat at every other stop in his professional career. He has batted .297 (243-for-819) with 69 doubles and 154 runs scored during three seasons in Boston's Minor League system.
Although Bradley's time to patrol center field at Fenway Park on an everyday basis has not yet arrived, he just wants the opportunity to keep working on his game.
"Hopefully, a long, healthy season," Bradley said, of his hopes for 2014. "That's what everybody's striving for because you can't do anything on the field unless you're healthy. Hopefully, it's a healthy one, and everything else will take care of itself."
Joe Morgan is a contributor to MLB.com. This story was not subject to the approval of Major League Baseball or its clubs.