Lackey takes away hit, gets hit during eventful third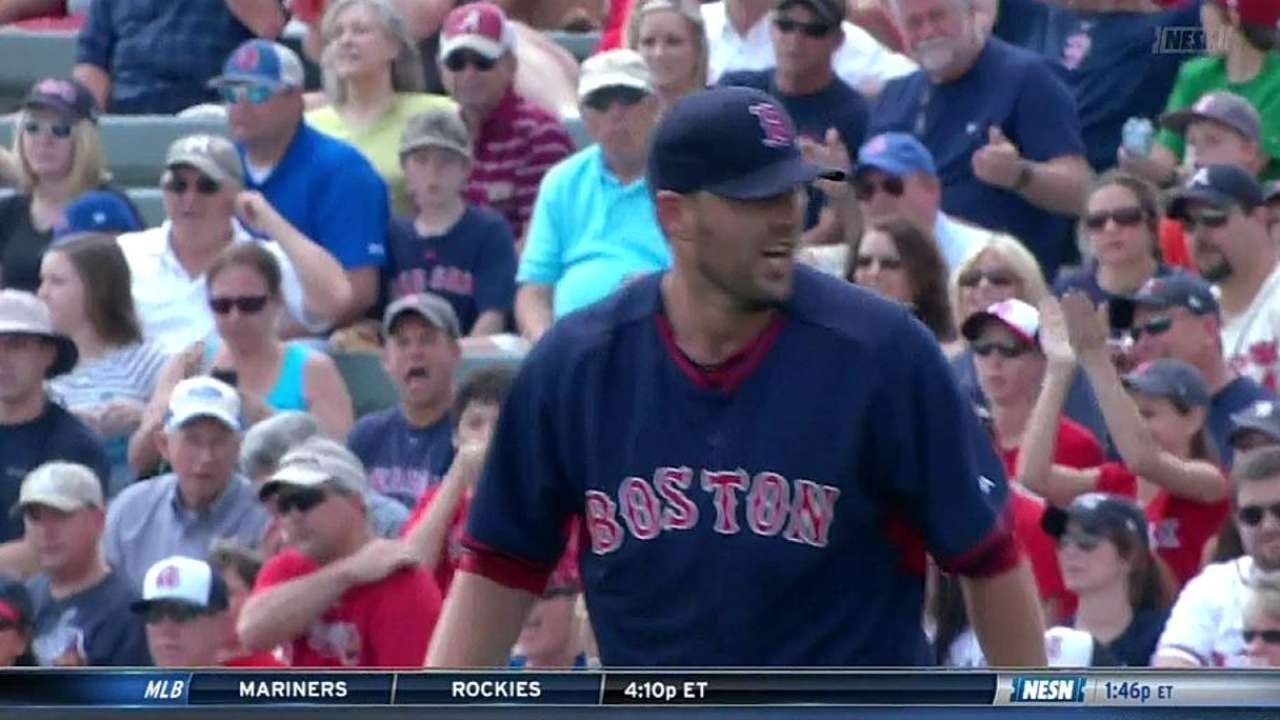 LAKE BUENA VISTA, Fla. -- If Red Sox pitcher John Lackey was not yet prepared for the regular season entering Saturday, a wacky third inning in a 6-3 loss to the Braves at Champion Stadium probably did the trick.
Speedy Braves outfielder Jordan Schafer attempted to reach base with a bunt that landed on the grass between the pitcher's mound and the dirt between first and second base.
However, instead of letting Gold Glove second baseman Dustin Pedroia try to make the play, Lackey lunged, gloved the ball and flipped it to first to beat Schafer by a step for the out.
"I just asked [Pedroia] if he liked that one," Lackey said. "He was pretty fired up. It was fun."
Added Red Sox manager John Farrell: "It was a heck of a play. He came out of it without turning an ankle. It looked like an awkward play."
But Lackey's attempt to crack highlight reels was only the beginning.
Two batters later, Freddie Freeman lined a pitch off the back of Lackey's left hamstring right below his backside. Lackey attempted to throw Freeman out and inadvertently earned some revenge by plunking Atlanta's first baseman with the throw.
Lackey insisted that he was fine.
"The line drive, fortunately, catches him in the flesh part of the leg, so we were able to avoid anything more severe," Farrell said.
Lackey's eventful third was part of an outing that lasted 4 2/3 innings. He surrendered five runs on 10 hits, including home runs to left field off the bats of Braves middle infielders Andrelton Simmons and Dan Uggla.
After a Ryan Doumit double just missed clearing the center-field wall 400 feet from home plate, Farrell pulled Lackey after 83 pitches, 58 of which were strikes.
Despite a day that saw his Spring Training ERA climb to 9.49, Lackey is encouraged by his recent performances.
"I definitely feel like I threw the ball better this time than last time," Lackey said. "Had a good bullpen session between my last two [starts]."
Lackey was particularly happy with his slider. Even though Uggla sent one of them -- clocked at 83 mph -- over the left-field wall, Lackey liked how he threw the breaking ball on Saturday.
"I felt like my slider was better this time," Lackey said. "I threw a couple of good ones. The last one I threw, the homer wasn't a good one, but for the most part that improved."
Farrell was glad to see Lackey reach 83 pitches as the veteran continues to build up strength ahead of the regular season, but he admitted the right-hander struggled to hit his spots at the plate against the Braves.
"In terms of the work load, a progressive step," Farrell said. "But still, there were some balls that found the middle of the plate here today."
In his next start, Lackey has no plans of dialing back his intensity. The Red Sox want their starters to work up to 95-100 pitches by the time Opening Day arrives. As for getting roughed up in his first three starts of spring, Lackey is not worried. His focus is simply getting his body ready for the games that count in the standings.
"It's Spring Training. I'm not real concerned about a whole lot right now," Lackey said. "I'm just trying to build up my arm strength and get ready for the real deal."
Joe Morgan is a contributor to MLB.com. This story was not subject to the approval of Major League Baseball or its clubs.