Breslow has no 'major complaints' after first appearance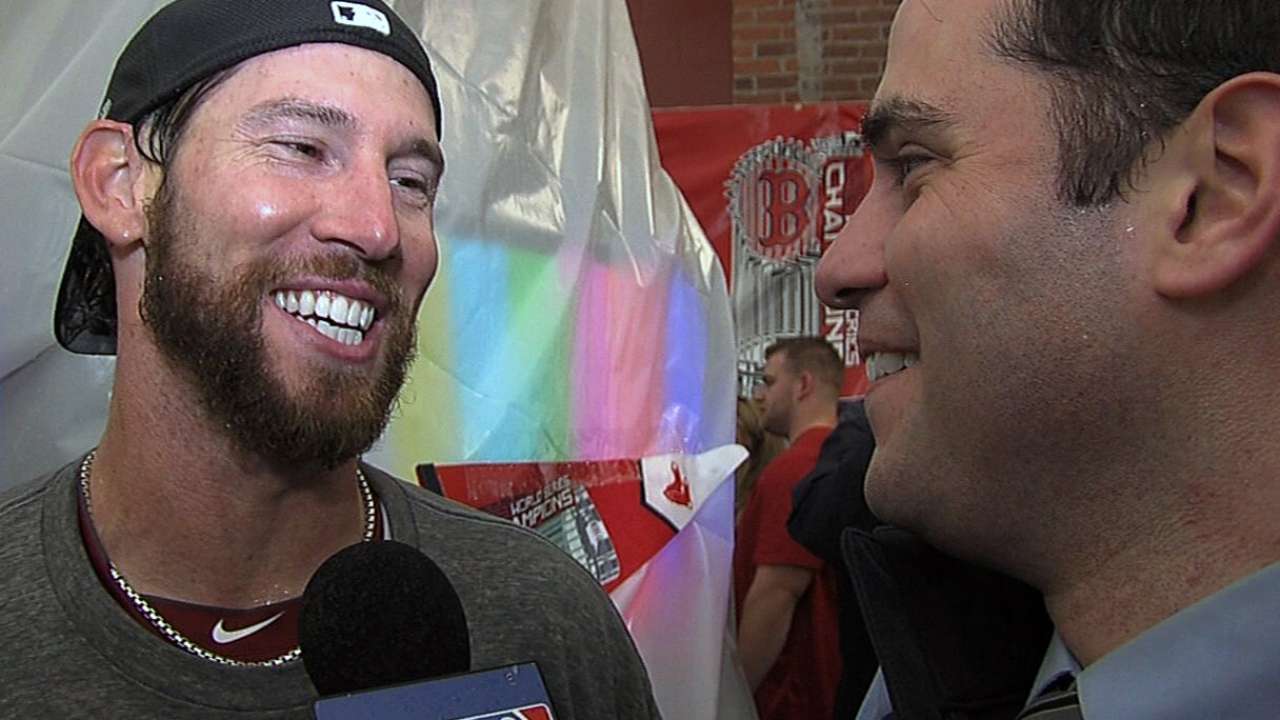 FORT MYERS, Fla. -- Red Sox left-hander Craig Breslow took an important step forward on Monday, pitching in a game for the first time since Game 4 of the 2013 World Series.
In one inning of work in Class A action against Orioles farmhands, Breslow allowed one hit and struck out one batter. Overall, the left-hander tossed 18 pitches, 11 for strikes.
"I've got not major complaints or problems. It went as expected and planned," Breslow said. "I didn't feel any discomfort. That was the first time I'd been on the hill in a competitive situation in some time."
Even with a steady stream of rain making the field quite wet, Breslow was able to keep his composure and mix his pitches well. His changeup was especially effective, creating two swings and misses.
Breslow was happy with the life on his pitches and the way he finished through the zone. While his velocity was a few mph below what it would normally be during the season, the lefty wasn't concerned.
"I felt comfortable using my whole repertoire," Breslow said. "I recognize some places where I can improve. I need to build up arm strength, but for a first step, it went well."
With less than a week left of Spring Training, Breslow said he still needs to work on his rhythm and tempo, which will come in more game action. Boston has taken a slower approach with the 33-year-old this spring, learning from last year, when he was kept out of action until May 6 because of shoulder tendinitis.
"My volume of throwing in Spring Training has been heavier than anyone else. It just wasn't in a game setting and off a mound," Breslow said. "I feel good. Comparing this to where I was last year, it is a totally different scenario."
A vital part in last season's championship run, Breslow threw 59 2/3 innings with a 1.82 ERA in 61 games.
"This was good for me to have the confidence to go out there and throw all of my pitches and with good intensity and be effective in a game, so when I'm not on the mound, I can be just as aggressive and build up arm strength," said Breslow.
While all signs point to Breslow starting the season on the disabled list, his status is still uncertain.
"I understand how we got here and recognize that whether it's from March 31 or April 5 or 6 through the end of October is what's important, not today," Breslow said. "I think we have to be reminded of that."
Ian Browne is a reporter for MLB.com. Read his blog, Brownie Points, and follow him on Twitter @IanMBrowne. Quinn Roberts is a reporter for MLB.com This story was not subject to the approval of Major League Baseball or its clubs.