Sizemore's strong spring rolls on with first homer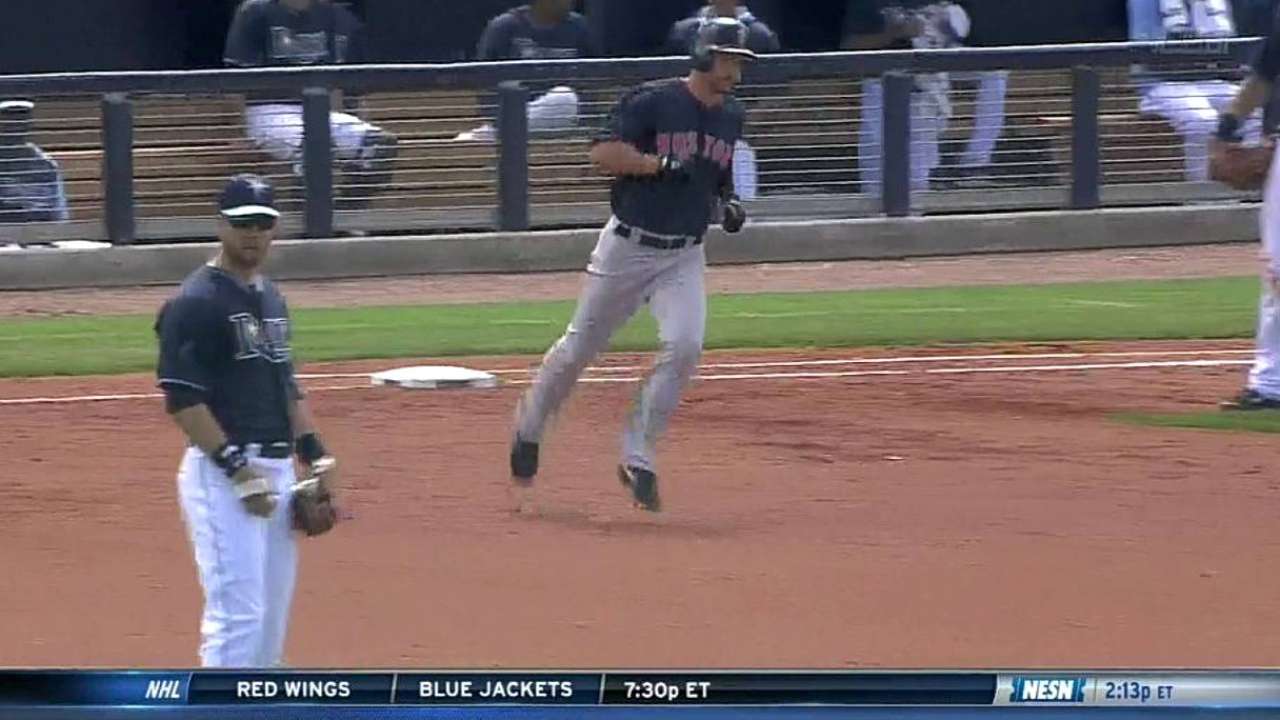 PORT CHARLOTTE, Fla. -- For Tuesday's game against the Rays, Red Sox manager John Farrell penciled Grady Sizemore into the No. 5 spot for the first time this spring.
The move definitely paid off. Sizemore hit a towering two-run home run over the Rays bullpen in the sixth inning that proved to be the difference in a 4-2 Red Sox win. It marked the first time Sizemore had hit a home run in a game since July 15, 2011.
"It felt good," Sizemore said about his trot around the bases. "I'm just trying to have good swings. I want to keep putting those together."
Before Tuesday's game, Sizemore had hit leadoff in all of his other Spring Training appearances.
"We just wanted to look at where our high on-base guys would slot in," Farrell said before the game. "I don't expect Grady to take a different approach at the plate."
Farrell said after the game how impressed he was with Sizemore's balance and timing at the plate.
"The way we have seen the ball come off the bat, almost a week at a time," Farrell said. "That whole process, he's starting to get his legs a little bit at the plate. It was a good day for him."
Tuesday's contest also marked the beginning of an important stretch for Sizemore, who will play in three straight games for the first time this spring. It will go a long way in determining if he or Jackie Bradley Jr. will be the Opening Day center fielder.
"I am just looking to the next day and not trying to get too far ahead of myself. I'm trying to stay on the program I'm on, Sizemore said.
"I'm happy with how everything has gone. I didn't expect to feel this good or comfortable so soon. I am happy with that aspect. Each day is better."
Sizemore has been impressive in 10 spring games, hitting .303 and making a few highlight-reel grabs.
"We came in with an open canvas," Farrell said. "We didn't have any set markers. He will gain further consistency the more at-bats he gets."
Farrell said he expects to make a decision by Friday.
"He's moving down the path to the most favorable as a final decision is made," Farrell said. "We want to build him out as much as possible. The Major League side isn't ruled out."
Ian Browne is a reporter for MLB.com.Quinn Roberts is a reporter for MLB.com. This story was not subject to the approval of Major League Baseball or its clubs.