Victorino to get MRI; Opening Day status unknown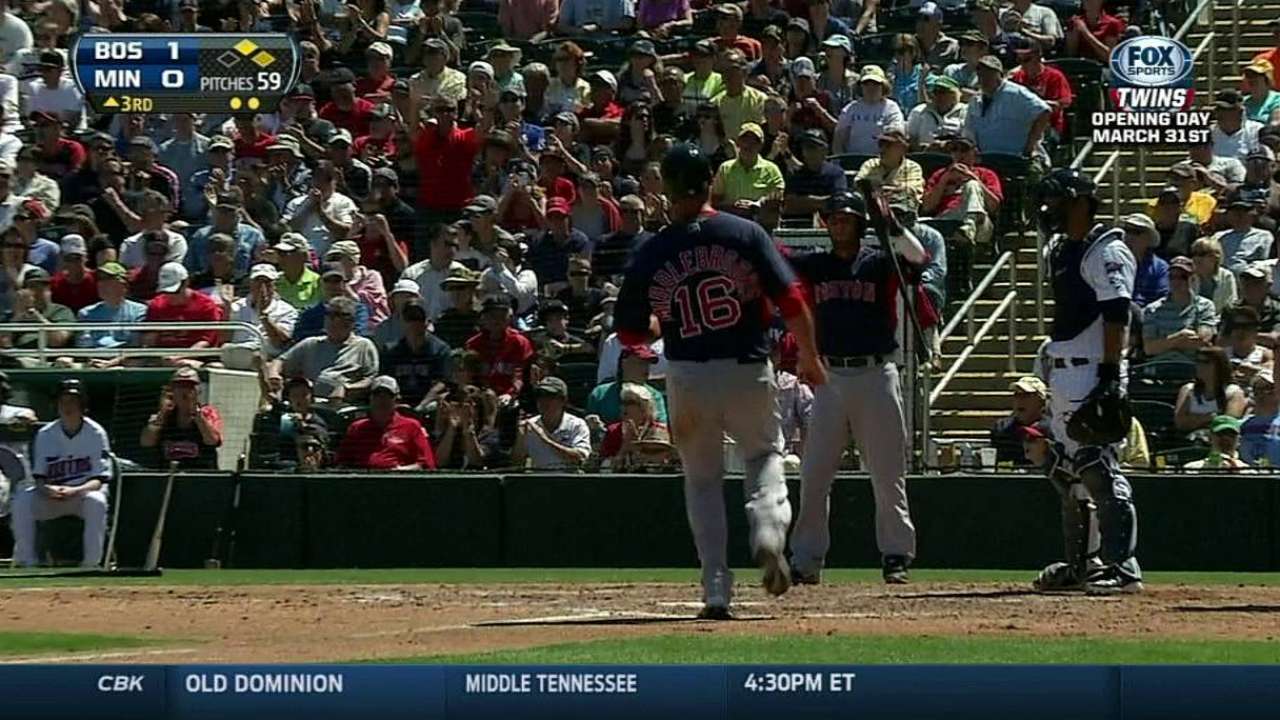 FORT MYERS, Fla. -- Red Sox right fielder Shane Victorino will undergo an MRI on his right hamstring in Boston and it's unknown if he'll be ready for Opening Day.
The veteran outfielder felt his right hamstring grab while rounding first base on a third-inning double in Boston's 7-4 loss to Minnesota on Saturday afternoon at JetBlue Park, said manager John Farrell.
Without the results of the MRI, Farrell couldn't say what the plan would be for Victorino or any potential roster moves.
"We'll have more information once he's examined," Farrell said. "We'll make an announcement once we get the information back."
In the clubhouse later, Victorino would not concede a potential injury.
"I'm fine," he said. "I'm ready to go."
Victorino was limited to just 10 Grapefruit League games and 28 at-bats by physical ailments. Entering Saturday's game, the veteran had played just 53 defensive innings, compared to Xander Bogaerts' team-leading 123.
In December, Victorino underwent nerve release surgery on his right thumb and was brought along slowly this spring. Victorino didn't make his first appearance in a Grapefruit League game until March 10, and he didn't play in back-to-back games until March 19-20.
Farrell said he did not plan to have Jackie Bradley Jr. travel with the team after Saturday's game to Baltimore for Monday's Opening Day. Bradley, who is ranked the club's No. 3 prospect and was optioned to Triple-A Pawtucket on Friday to make room on the roster for center fielder Grady Sizemore, played 21 innings this spring in right field. Bradley has appeared in eight Minor League games and two Major League games in right field since joining the Red Sox as a compensation pick in the 2011 First-Year Player Draft.
"He's on call, certainly," Farrell said. "But we've got to get Vic checked out first before any kind of roster move is confirmed."
Maureen Mullen is a contributor to MLB.com. This story was not subject to the approval of Major League Baseball or its clubs.