Bradley starts in right as Nava sits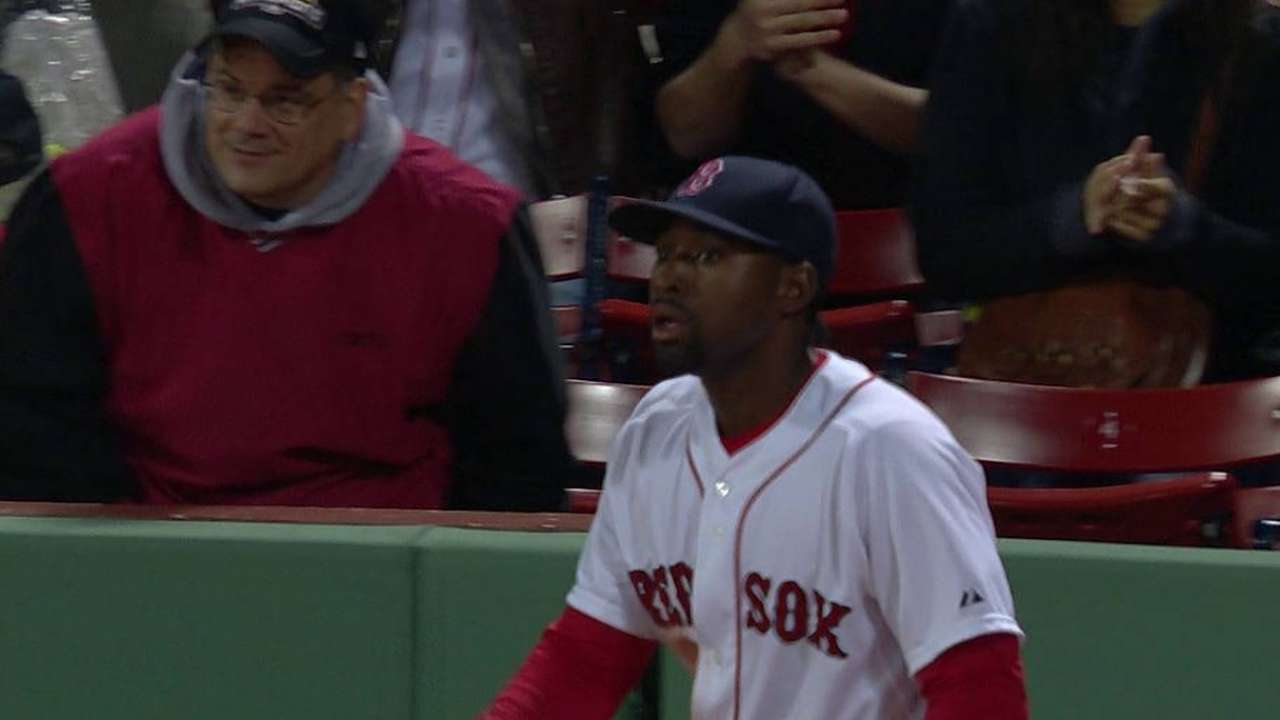 BOSTON -- Daniel Nava, the primary leadoff man thus far, was the odd man out in Tuesday's lineup against the Rangers. Jonny Gomes batted first against a lefty, and the left-handed-hitting Jackie Bradley Jr. got the start in right, instead of the switch-hitting Nava.
Though Nava's off to a slow start at the plate, hitting .138 over his first 29 at-bats, Farrell doesn't think it's because of the switch to the top of the batting order.
"I don't think he's changed his approach. At times, he's hit into a little tough luck," said Farrell. "On Sunday, he could have easily had three hits. He was on base three different times [Monday] night. Last year was not a fluke, in terms of his ability to get on base. There's been a tendency of late at times to try to lift the ball a little bit. That's why you've seen a number of balls in the air. At the same time, it's 30 at-bats, and he's trying to get into the flow of the season as well."
And Bradley, on the heels of a three-hit game and two sensational catches in right field, was back in there.
Was Farrell playing the hot hand or prioritizing defense?
"Both. We've all come to realize the importance of defense in right field, and Jackie made two game-changing plays, I thought," said Farrell of the club's No. 3 prospect. "He's in a pretty good place offensively, from a confidence standpoint. It was an opportunity to give Daniel a night off his feet as well."
While Jacoby Ellsbury held down the leadoff spot for the better part of the last six seasons, the Red Sox don't have one set person to turn to at this point.
For now, Farrell will continue to mix and match.
"The one thing we prioritize is on-base, and yet we're still trying to generate that," Farrell said. "We're going to be in a situation where we mix and match as best we can, evident by the guys that are currently available. We're going to see Jonny and Daniel in that spot. There might be a time or two when we put Grady [Sizemore] in the leadoff spot.
"We don't have that prototypical guy right now. I like Dustin [Pedroia] in the 2-hole. It creates the middle-of-the-order continuity for the rest of the guys that are there. We're looking to take advantage of the strengths that our current roster has to offer."
Ian Browne is a reporter for MLB.com. Read his blog, Brownie Points, and follow him on Twitter @IanMBrowne. Quinn Roberts is a reporter for MLB.com This story was not subject to the approval of Major League Baseball or its clubs.