Red Sox pay tribute to those affected by bombings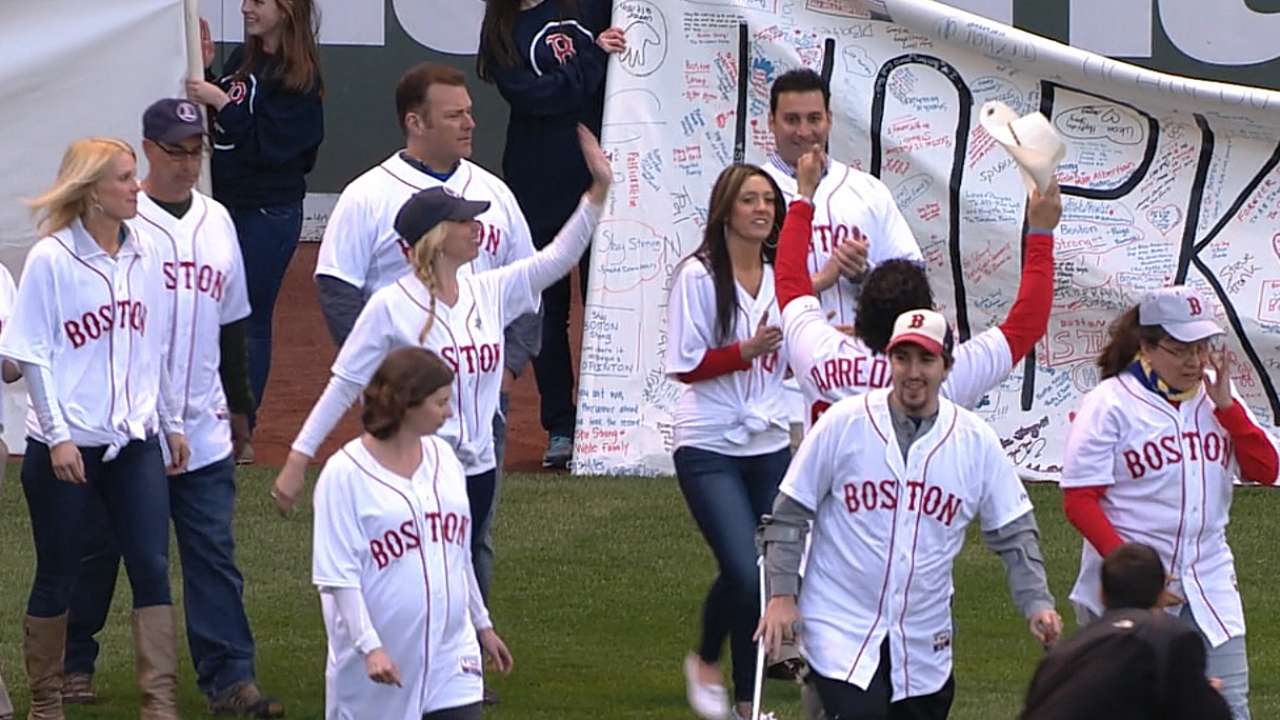 BOSTON -- On the eve of the 2014 Boston Marathon, the Red Sox put together a stirring pregame ceremony on Sunday night in recognition of those affected by the tragic bombings that took place at the finish line last April.
In the outfield, there were a series of canvases bearing inscriptions of goodwill from all 50 United States, several local communities and also all 30 Major League Baseball teams.
Doctors, nurses, EMTs and rehabilitation therapists lined the field as the Red Sox thanked them for their vital role in aiding the recovery of the victims.
People who are walking again despite injuries sustained during the tragedy were invited on to the field. And so, too, were many who will run in Monday's marathon.
And the Red Sox wound up coming back from a 5-0 deficit to pull off a walk-off, 6-5 victory over the Orioles.
"Another emotional roller coaster here at Fenway, tear jerker there for a minute," said left fielder Jonny Gomes. "It really sunk home how much healing is still going on, a year down the road, and how important it is on us as Red Sox to help the healing. Seeing those people out there, you find out how much easier it is to help heal than it is to heal. That being said, I think the Red Sox and Red Sox Nation are doing a good job of doing their part."
The Red Sox took time to remember Krystle Campbell, Sean Collier, Lingzi Lu and Martin Richard, the four fatalities associated with the bombing that took place on April 15, 2013.
Lu's family traveled from Japan and set foot in Fenway Park for the first time on Sunday, and they had the honor of saying "Play Ball" into the microphone shortly before the start of the game.
The University of Massachusetts Marching Band performed during the ceremony and played the national anthem.
Jim Gallagher, the president of the One Fund, which has spent the last year raising money for the victims, threw the first pitch to David Ortiz.
"It was unbelievable," said Red Sox second baseman Dustin Pedroia. "To see everybody out there, it was pretty special. This is a special place."
Ian Browne is a reporter for MLB.com. Read his blog, Brownie Points, and follow him on Twitter @IanMBrowne. This story was not subject to the approval of Major League Baseball or its clubs.