Growing pains part of the process for Bogaerts, Bradley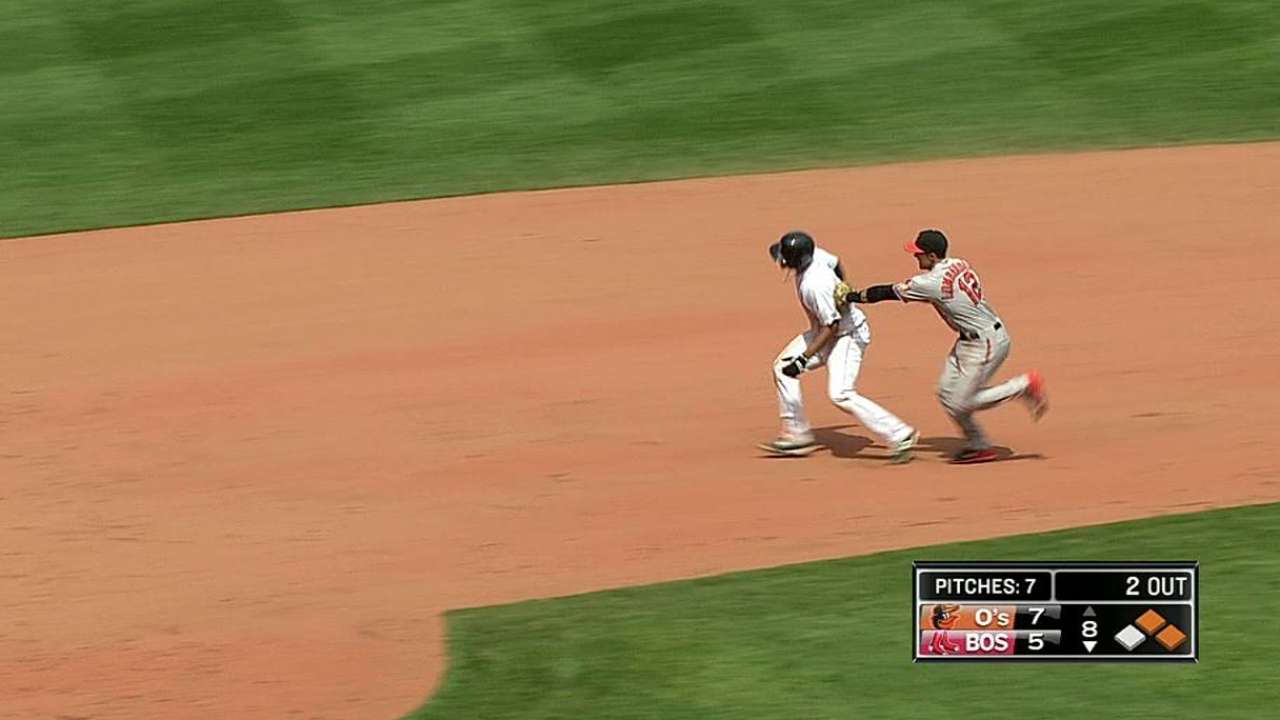 BOSTON -- Considering how much praise they've received for their poise, it's easy to forget that Xander Bogaerts is 21 years old and Jackie Bradley Jr. just turned 24. Neither player is perfect, and they've both made some fundamental errors in recent games.
Bogaerts got thrown out trying to steal third in a critical spot in Monday's 7-6 loss to the Orioles and Bradley missed the cutoff man on a throw to the plate.
"I think there's a certain expectancy that some of that might take place," said manager John Farrell, "but what we do with it and how we respond to it is most important. That requires more individual conversation, and that took place yesterday as well as today."
The only way Bogaerts and Bradley are going to learn how to respond to every situation is to go through them.
"You're taking guys that are gaining experience at the Major League level, which is going to be different than any Minor League setting that they've ever been involved in," said Farrell. "The talent is there, the work ethic is there. And yet we've got to ride the ebb and flow a little bit, because of the inexperience, which is fully expected on our part."
Playing two rookies at key positions in the middle of the diamond can be a challenge, but one the Red Sox are fully confident they can work through.
"You're talking about the two positions on the field with respect to outfield or infield that are going to see the most action," said Farrell. "As their learning curve is fairly steep at this point, you may see some things that a veteran player isn't going to show you. That's part of the game and that's part of a young player becoming an everyday big leaguer."
Ian Browne is a reporter for MLB.com. Read his blog, Brownie Points, and follow him on Twitter @IanMBrowne. Quinn Roberts is a reporter for MLB.com. This story was not subject to the approval of Major League Baseball or its clubs.