Red Sox to honor '04 World Series team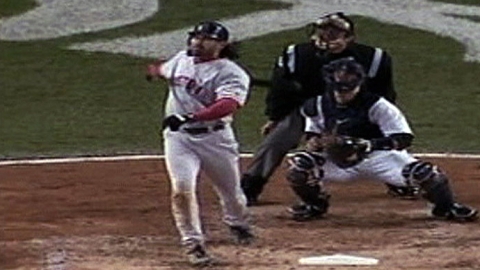 BOSTON -- The Red Sox will give their fans a warm ride down memory lane on May 28 when they welcome many of the players from the 2004 World Series championship squad.
Johnny Damon, Trot Nixon, Kevin Millar, Mike Timlin, Jason Varitek, Keith Foulke, Derek Lowe, Tim Wakefield and Pedro Martinez are all confirmed to be in attendance. Star slugger David Ortiz is the only player from the 2004 team still in a Red Sox uniform.
The ceremony will take place before that night's game against the Braves, commemorating the 10-year anniversary of when Boston broke an 86-year drought without a World Series championship.
While several of those former players have been back in Boston in recent years for club events, this is the first time Damon will take part in a ceremony with the club since he left as a free agent following the 2005 season.
Damon was a hero in Game 7 of the American League Championship Series against the Yankees, belting two home runs, including a grand slam.
"Pretty incredible," Damon said recently. "That's definitely going to be the defining moment of my career. Yes, there's other great things, but the fact that you helped get the franchise a chance to win a World Series, that didn't come around too often in Boston."
It was Damon who dubbed the team "Idiots" in the midst of their championship run in reference to the zany personalities that made up that team.
After Damon left Boston to play for the Yankees, there was quite a bit of hostility directed at him from the Fenway faithful. But in his most recent appearance at Fenway as a player, in 2012 while playing with the Indians, the Red Sox played a video tribute for their former center fielder, and the crowd gave him a nice applause.
"I know 10 years is a big thing, and I think after that ovation [in 2012], I kind of just let go. I was like, 'OK, it's over,'" Damon said.
Damon has many fond memories of his time in Boston, even if the ending was acrimonious.
"It was the absolute best," Damon said of the camaraderie on the '04 team. "We had fun on the field, had fun off the field, cared about each other and just had a mentality every time we went to a city that other teams were scared of us. That's a pretty good feeling. We knew if we didn't come out with the series win, we knew the other team must have played really good, or they just didn't have much left in the tank after that."
Other members of the 2004 Championship team scheduled to attend the celebration include Abe Alvarez, Ellis Burks, Orlando Cabrera, Cesar Crespo, Lenny DiNardo, Adam Hyzdu, Ron Jackson, Lynn Jones, Gabe Kapler, Curtis Leskanic, Dave McCarty, Ramiro Mendoza, Mike Myers, Pokey Reese, Phil Seibel, Jason Shiell, and Scott Williamson.
Manny Ramirez is the one notable absentee, other than Curt Schilling, who has spent the last few months battling cancer.
Ian Browne is a reporter for MLB.com. Read his blog, Brownie Points, and follow him on Twitter @IanMBrowne. This story was not subject to the approval of Major League Baseball or its clubs.