Papi disagrees with official scorer on Mauer error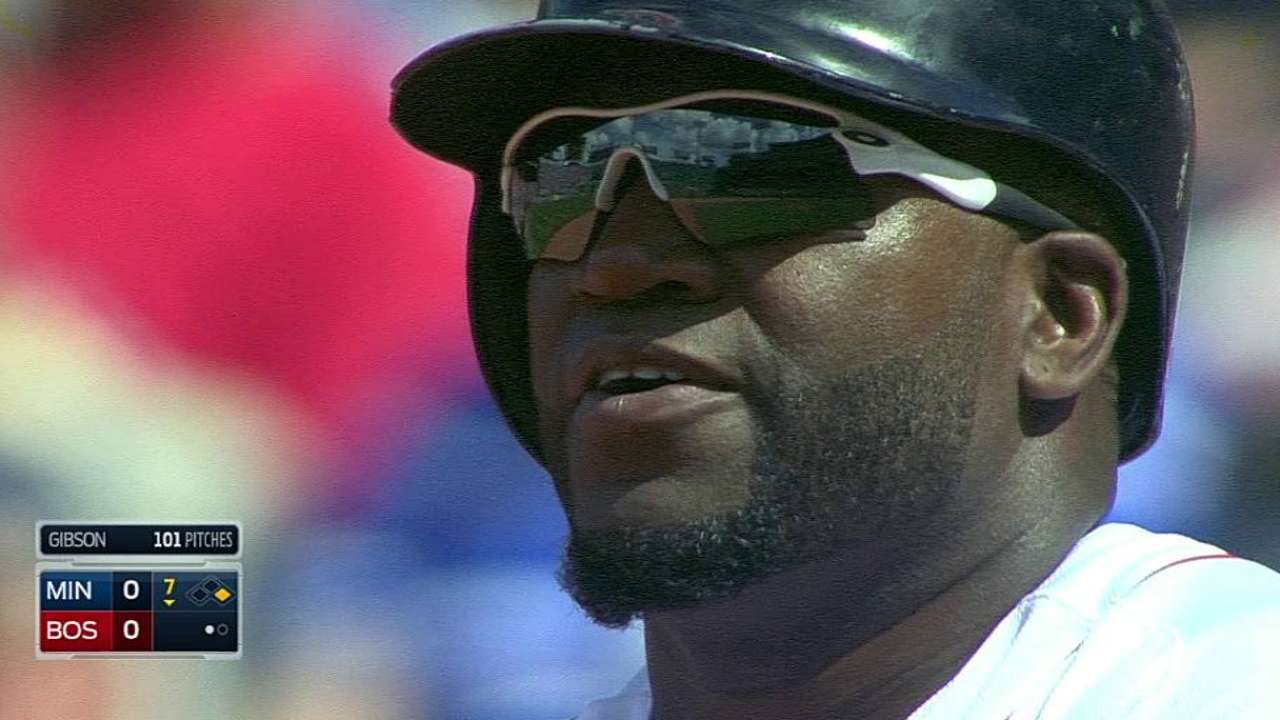 BOSTON -- David Ortiz stung a grounder to first that Twins first baseman Joe Mauer stopped on a half-dive in the bottom of the seventh inning Wednesday. But Mauer couldn't keep it in his grasp, and Ortiz thought he had an infield hit.
Official scorer Bob Ellis ruled it as an error on Mauer. Ortiz didn't wait long to express his displeasure. Once the inning ended, Ortiz looked up to the press box and gave Ellis the thumbs-down sign.
"It's so hard here, man," said Ortiz. "I thought people were supposed to have your back at home and it never happens. It's always like that. I've been here for more than a decade and the scorekeepers here are always horrible. This is home, man. What do you want Mauer to do? He dove for the ball to knock it down. I always look like I'm the bad guy, but they always end up changing it."
Ellis didn't seem inclined to change his call, and it remains to be seen if Ortiz or the Red Sox ask Major League Baseball to review it.
"It's a play that Mauer makes with ordinary effort," said Ellis. "It looked like he got a true hop. It didn't look like the ball exploded on him. He got in position. His body language is telling me, 'I've got this ball.' It looked like a play you make with ordinary effort. I'm not saying Ortiz didn't hit it hard. It's a play I thought Mauer makes with ordinary effort."
What was the message Ortiz was trying to send to Ellis with his public gesture?
"What is he watching?" said Ortiz. "He's not watching the same ballgame that everybody is watching here."
The Red Sox were two outs away from losing Wednesday's game before Ortiz clocked a game-tying homer around the foul pole. Mike Napoli then won it with a walk-off homer in a 2-1 victory.
Ortiz was in a good mood after the game, but didn't regret making his displeasure clear with the scorer during the game.
"Yeah, got to make it clear," Ortiz said. "It's not my first rodeo, man. You know how hard it is to get a hit?"
Ortiz thinks that sometimes he should fight for his hits.
"That's what I get paid for," said the designated hitter.
Ian Browne is a reporter for MLB.com. Read his blog, Brownie Points, and follow him on Twitter @IanMBrowne. This story was not subject to the approval of Major League Baseball or its clubs.