Betts collects first hit, scores a run in MLB debut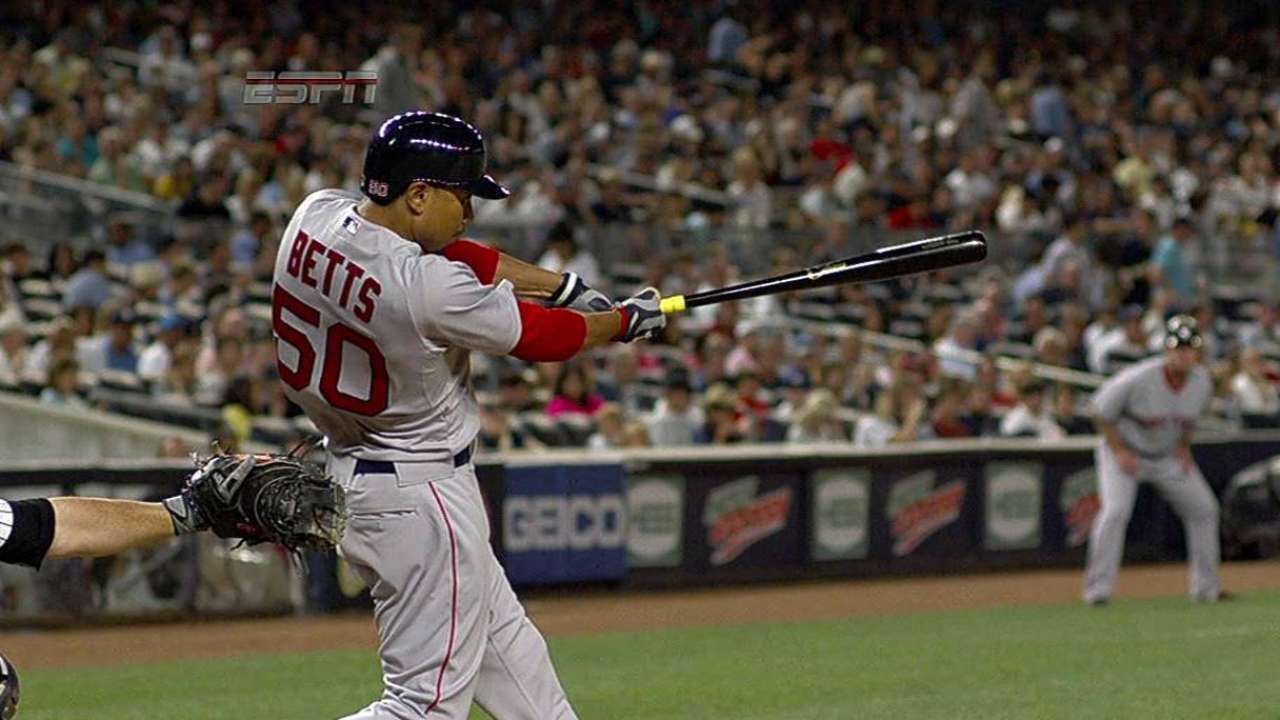 NEW YORK -- Rookie phenom Mookie Betts was called up to the big leagues Saturday to help spark a recently lackluster Red Sox offense. Sunday night in the Bronx, it seemed that his mere presence in the lineup was enough to spark 12 hits and six walks in an 8-5 victory over the Yankees.
Making his Major League debut in right field, he grounded into a double play in his first at-bat, but his next plate appearance was much more memorable.
On a second-pitch fastball from righty Chase Whitley in the fourth inning, Betts pushed a grounder up the middle into center field, acquiring his first Major League hit. Hoping to push his luck, he attempted to steal second base but was thrown out by Brian McCann to end the inning.
"It was great," Betts said of his first hit. "I mean, going up my first at-bat I had a little jitters, but once I saw the first pitch ... it's the same game I've been playing the whole time. Not wanting to put any extra pressure on myself today, so I think I did that pretty well."
His play in right field wasn't as successful, but was equally confident. In the fifth inning, in the only play that really tested his speed, Betts dove for an Ichiro Suzuki line drive. The ball missed his glove by inches and rolled to the wall, allowing Ichiro to get a triple.
Betts finished 1-for-3 with a nine-pitch walk and scored a run.
"I thought he controlled each and every one of his at-bats, particularly the walk," said manager John Farrell. "He takes a borderline 3-2 pitch for the walk. He showed good presence in the batter's box, might have been a little bit over aggressive on the defense with the dive of Ichiro's ball, but for his first outing, he showed very well."
Ian Browne is a reporter for MLB.com. Read his blog, Brownie Points, and follow him on Twitter @IanMBrowne. Jake Kring-Schreifels is an associate reporter for MLB.com. This story was not subject to the approval of Major League Baseball or its clubs.