Peavy understands rumors, hopes to stay in Boston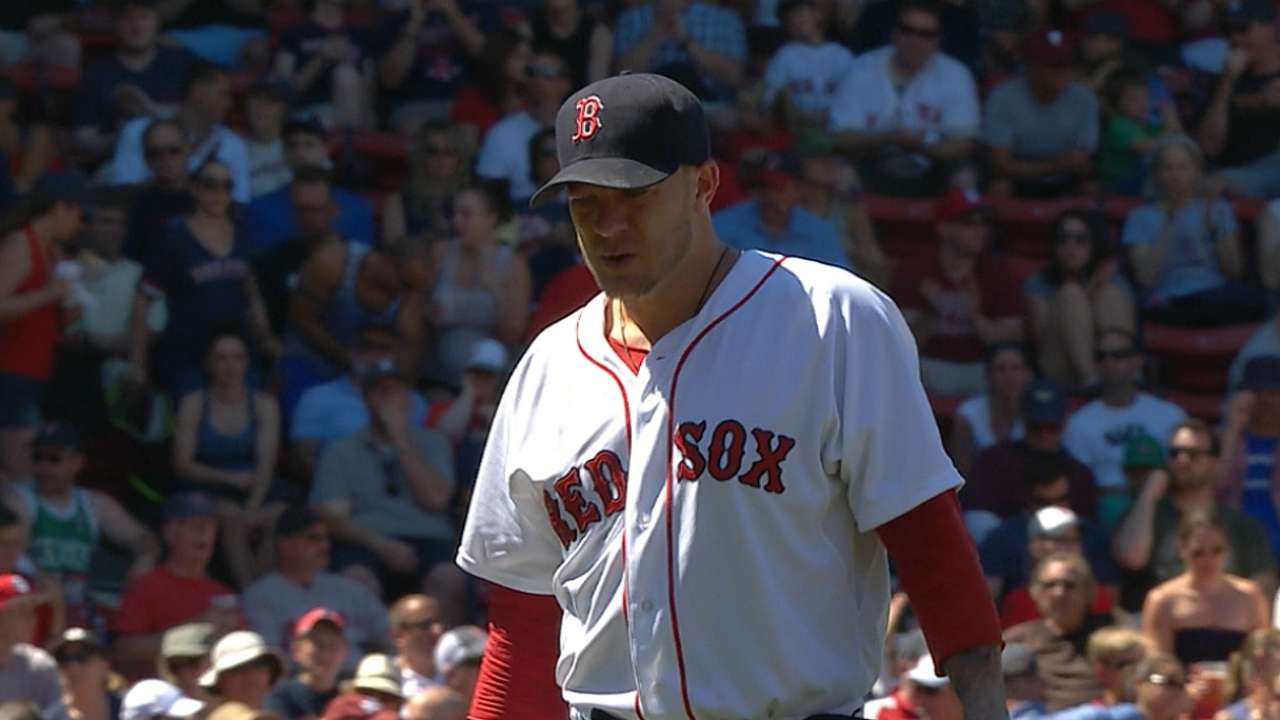 BOSTON -- Twice in his career, Red Sox right-hander Jake Peavy has been traded just prior to the July 31 non-waiver Trade Deadline. Peavy is realistic enough to know that a third deal could well be in the works before this month ends.
Peavy (1-7, 4.64 ERA) has struggled this season and so have the Red Sox, who are 10 1/2 games back in the American League East with 72 games left in the season.
After Boston had experienced an 8-3 loss to the White Sox on Tuesday night, Peavy sounded almost resigned to the fact that he will be on the move in a matter of weeks, if not days.
"I don't know the chances," said Peavy. "I can't really worry about it. I don't know what to expect. I certainly expect probably the same thing everyone in here talking to me probably expects."
There have been rumblings that the Cardinals, who pursued Peavy last summer before he came to the Red Sox, could be a destination.
"I don't think people are making stuff up and throwing it out there," said Peavy. "You respect what you hear. I don't read anything. I don't know what's out there. I just know that I'm getting a lot of texts and calls, people speaking to me about it. We obviously have got to respect the reality of that situation."
Peavy has been in contact with Red Sox general manager Ben Cherington.
"I have spoke to Ben, just getting a pulse on things. I think when you get to this point, it's a mutual respect thing of, 'Hey, this is where I stand and this is where we stand.' It's nice to not be blindsided by anything, to kind of have some feel," said Peavy. "I certainly would never disclose anything that's personal conversation until the day comes that we have to. That's just out of respect for the process. I'm here. I'm still happy to be here, although an unfortunate situation we're under. But I'll be here tomorrow, lord willing, and get to work."
Peavy loves Boston, and pitching for the Red Sox. But he also understands the business of baseball.
"We all are professionals and understand this time of year," said Peavy. "At the same time, our focus is here and trying to figure out a way, me personally, to get better, for Saturday night in Houston. And to help my teammates get prepared to win tonight."
"This will be the third time my name has really been thrown out there with a legitimate chance to be traded, and I've been traded twice previous," said Peavy. "I do understand what this is like. I don't have any anxiety if it were to happen. I'm going to handle things because I know the whole process. Like I said, it's a difficult one."
Even though Peavy is the ultimate professional, it is unsettling for any player to wonder if his life will be uprooted in the middle of the season.
"My life is in Boston -- everything I have," said Peavy. "And to pick up and move to a new city where you don't know anybody, it's challenging times for anybody. But that being said, and having been through it, there's no anxiety about any of that. I really won't comment on anything in the future until really something happens because it does nobody any good."
On July 31, 2009, Peavy was traded from the Padres to the White Sox. And last year, his deal to Boston happened on July 30.
"I'll handle it the way I handled it last year and the way I've handled it before," said Peavy. "Just try to continually not lose focus on the task at hand. The task at hand is to come here to work, to get better. It's to get ready to win your next time out. We all certainly understand the situation, the times we're in. At the end of the day, it's not our job to be wrapped up in that."
And until Peavy hears anything different, he plans on pitching for the Red Sox against the Astros on Saturday in Houston.
Peavy takes pride in pitching for the Red Sox, and that includes the good times like last year and even the struggles of this season.
"My love for the Boston Red Sox will be unbreakable," said Peavy. "When you, as a player do what we did last year, it was all I ever dreamed of doing. When you do that, this place is held in the highest regard it could ever be held in. That being said, I will always want to do what's best for the Boston Red Sox. That could very possibly be me being moved to save money for the Boston Red Sox or get a player or two or create roster space for somebody to come up and take my spot. That's the reality of the situation.
"I'll always want to do what's best for Boston, although when I told you about what was so special about last year was the brotherhood that I have with 10 or so guys on this team, and I take pride on being a man, but I hope all y'all aren't around to see me cry like a baby, because if that day does come, it's going to be tough for me to look some guys in the eye and know I'm not going to be on their team."
Ian Browne is a reporter for MLB.com. Read his blog, Brownie Points, and follow him on Twitter @IanMBrowne. Stephen Petrella is an associate reporter for MLB.com. This story was not subject to the approval of Major League Baseball or its clubs.